NEW FOR 2024 MODELS! Protect your battery investment and keep voltage-sensitive components operating efficiently with a larger 220-watt solar panel on the roof. Designed with the owner in mind, SolarFlex Protect 220 is a versatile base system that can be easily expanded to fit many different energy needs.
(Replaces SOLARFLEX 200)
SOLARFLEX PROTECT 220 COMPONENTS
Future Solutions 220-Watt Solar Panel (upgraded for 2024!)
30A Solar Roof Port with MC4 Connectors & 10 AWG MPPT Solar Charging Circuit
30A 12V Only Victron SmartSolar MPPT Controller with Bluetooth app (upgraded for 2024!)
Inverted 110V Loop Prep with Up to 7 Outlets (inverter not included)
Zamp Solar Sidewall Charge Port with 15A Solar Charging Circuit
Batteries not included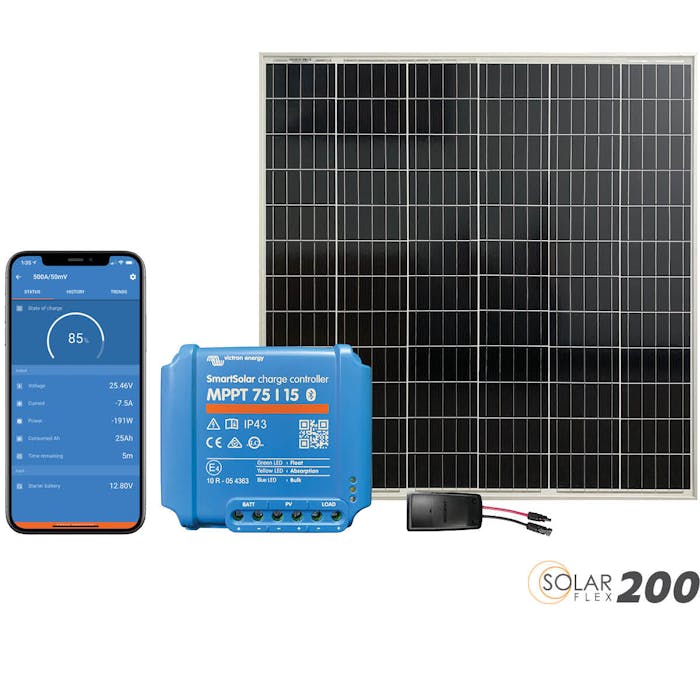 WHAT YOU CAN EXPECT
Keystone's SolarFlex Protect 220 base system will maintain and refill an owner-supplied battery to operate onboard 12v systems including water pumps, lights, USB ports, slides, stabilizers, leveling, 12v refrigerators, iN-Command, and more. This means that you have everything you need to make a stop during your travels, open the slides, prepare a meal or grab a nap. Designed to refill a typical RV battery bank of two group 24 batteries with one day of peak sun.* Bluetooth connectivity provides visibility to the batteries charging state and available energy via the Victron smartphone app.
*Performance will vary based on available sunlight, battery size/type, and power usage. Use this system's VictronConnect app to understand your usage and requirements better.
********** TO SOLARFLEX 200 QUICK START GUIDE******************
EXPLORE BRANDS FEATURING SOLARFLEX PROTECT 220
Alpine; Arcadia; Avalanche; Bullet; Carbon; Cougar; Fuzion; Fuzion Impact Edition; Hideout; Montana; Montana High Country; Outback; Passport; Premier; Raptor; Springdale; & Sprinter.
LEARN ABOUT OTHER SOLARFLEX PACKAGES
SolarFlex Ready; SolarFlex Discover 440i; SolarFlex Outlast 660i-L; SolarFlex Outlast Extreme 1320i-L
EXPAND YOUR SYSTEM
SolarFlex Protect 220 is designed to be easily customized at the dealership before you take delivery of your RV or as your solar energy needs change.
ADD SOLAR ENERGY COLLECTION* FOR OFF-PEAK LIGHT CONDITIONS
ADD SOLAR POWER FOR 110V OUTLETS
Install 2000w inverter in inverted prep circuit -- Xantrex (KRV part# 653865) or Magnum (KRV part# 686127) recommended 
REAL-TIME BATTERY LIFE MONITORING
*SolarFlex supports a maximum of two panels per roof port.
TECHNICAL SPECIFICATIONS
SOLAR PANEL MECHANICAL SPECIFICATIONS (EACH)
Approximate Dimensions: 39.37"H x 41.34""W X 1.38"
Approximate Weight: 29.76 lbs.
Frame: Anodized Aluminum Alloy
Cable Length: 35.43"L
Number of Cells (Pcs): 66 (6x11)
Hail Impact Test: 227g steel ball dropped from 1M height
Cell Size: 3.27" x 6.59"
Cell Type: Monocrystalline
Connectors: MC4
Encapsulate: EVA
Junction Box: IP68
SOLAR PANEL ELECTRICAL SPECIFICATIONS (EACH)
Maximum Power (Pmax) : 220
Maximum Power Voltage (Vmp): 35.75V
Maximum Power Current (Imp): 6.15A
Open Circuit Voltage (Voc): 44.2V
Short Circuit Current (Isc): 6.28A
Power Tolerance: +/-3%
Maximum System Voltage: 600UL/1000V/ IEC
Module Operating Temperature: -40°C to +85°C
CHARGE CONTROLLER SPECS
Enclosure: IP43 (electronic components); IP22 (connection area)
Protection: PV reverse polarity; output short circuit; over temperature
Standard(s) Listings: EN/IEC 62109-1; UL 1741; CSA C22.2
DISCLAIMER: All information on this website is the latest available at time of publication approval. Features, floor plans, and specifications are subject to change without notice. Please consult with your Keystone dealer for more current product information and specifications.