NEW ON 2024 MODELS! Built for dry camping pros, SolarFlex 1320i-L is the gold standard for RV solar power performance. This package features max solar collection and Lithium-ion energy storage. Every electrical component and 110v outlet is solar energy ready – including the air conditioners. If energy consumption ever outstrips supply, an intelligent energy management system will restrict power to non-critical components, eliminating tripped breakers. A hybrid inverter/charger allows owners to charge batteries from multiple sources (i.e. shore power, solar array, or a generator) simultaneously.
(Replaces SOLARFLEX 1200I-L)
COMPONENTS
6, 220W Solar Panels and 4 CS3 Solar Cable Splitters
2, 30A Solar Roof Ports With MC4 Connectors & 10 AWG MPPT Solar Charging Circuit
2, 50A Victron Smart MPPT Controller With Bluetooth App
2, 270AH Dragonfly Heated Lithium-Ion Batteries
Victron Multi-Plus 2x120V 3000W Inverter/Charger With Built-In Transfer Switch and All Outlets Inverted
2, Soft-Start Air Conditioners
Victron SmartShunt Battery Monitor With Bluetooth App
Victron GX Touch 50 5" Color Display
Victron Cerbo-S GX
Zamp Sidewall Charge Port with 15A Solar Charging Circuit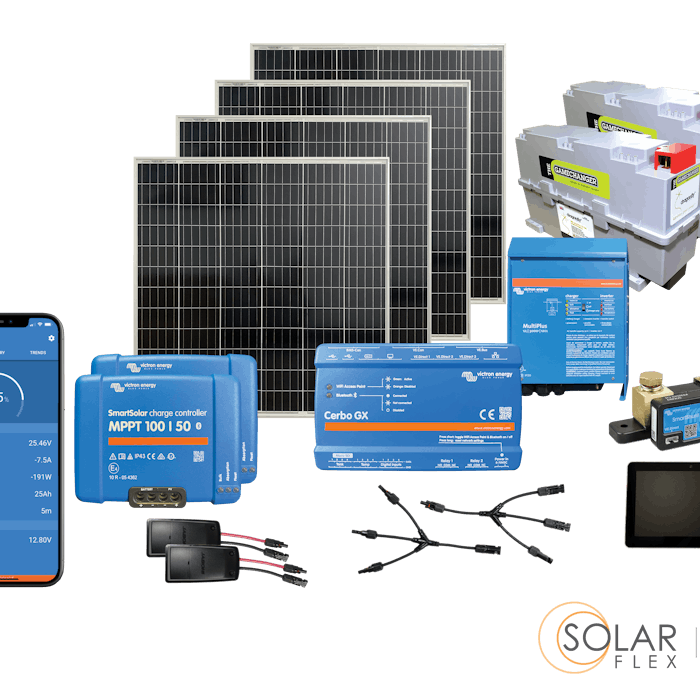 WHAT YOU CAN EXPECT:
SolarFlex 1320i-L is the ideal setup for power users looking for extended boondocking adventures. With the right conditions and ultra-fast charging, campers will have a solid power supply to run onboard systems, air conditioning, and appliances. 540Ah of stored energy allows owners to bank energy to power through days with sub-optimal weather conditions. Victron's CerboGX-S provides complete visibility, control, and energy analysis to maximize your time off the grid.
Another bonus? With SolarFlex 1320i-L your RV can be the ultimate guest quarters. A hybrid inverter allows the coach to operate as if it is on 30A service when plugged into a 10A residential outlet, simultaneously refilling the battery bank with solar and shore power.
GO TO SOLARFLEX 1320i-L QUICK START GUIDE
SHOP BRANDS WITH SOLARFLEX OUTLAST EXTREME 1320i-L
Exclusively available on Montana.
EXPLORE PACKAGES:
SolarFlex Ready; SolarFlex Protect 220; SolarFlex Discover 440i; SolarFlex Outlast 660i-L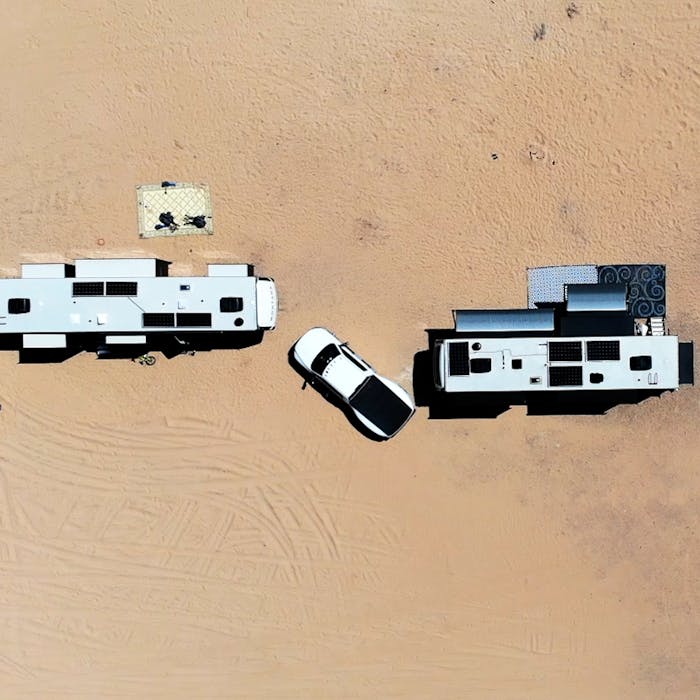 EXPAND YOUR SYSTEM
Although the SolarFlex 1200i-L is pretty darn robust, owners still have options to enhance this package.
TO ADD SOLAR ENERGY COLLECTION + FASTER CHARGING
TO ADD POWER STORAGE
Install additional Dragonfly Energy® heated Lithium-ion batteries (KRV part# 653851) and parallel cable kit, available exclusively through authorized Keystone RV dealers
TECHNICAL SPECIFICATIONS
SOLAR PANEL MECHANICAL SPECIFICATIONS (EACH)
Approximate Dimensions: 39.37"H x 41.34""W X 1.38"
Approximate Weight: 29.76 lbs.
Frame: Anodized Aluminum Alloy
Cable Length: 35.43"L
Number of Cells (Pcs): 66 (6x11)
Hail Impact Test: 227g steel ball dropped from 1M height
Cell Size: 3.27" x 6.59"
Cell Type: Monocrystalline
Connectors: MC4
Encapsulate: EVA
Junction Box: IP68
SOLAR PANEL ELECTRICAL SPECIFICATIONS (EACH)
Maximum Power (Pmax) : 220
Maximum Power Voltage (Vmp): 35.75V
Maximum Power Current (Imp): 6.15A
Open Circuit Voltage (Voc): 44.2V
Short Circuit Current (Isc): 6.28A
Power Tolerance: +/-3%
Maximum System Voltage: 600UL/1000V/ IEC
Module Operating Temperature: -40°C to +85°C
CHARGE CONTROLLER SPECS
Enclosure: IP43 (electronic components); IP22 (connection area)
Protection: PV reverse polarity; output short circuit; over temperature
Standard(s) Listings: EN/IEC 62109-1; UL 1741; CSA C22.2
DISCLAIMER: All information on this website is the latest available at time of publication approval. Features, floor plans, and specifications are subject to change without notice. Please consult with your Keystone dealer for more current product information and specifications.