With the addition of an inverter and second solar panel, SolarFlex 400i provides power to up to seven compatible 110v outlets. This economical and robust package will get you off the grid in good conditions with a reasonable (but not endless) energy supply. A smart battery monitor provides real-time visibility to power draw and energy on-hand, which allows you to make informed choices to extend your time away from the generator and shore power.
COMPONENTS
2, 30A solar roof ports w/ mC4 connectors & 10 AWG solar charging circuits
2, Future Solutions 200-watt solar panels & CS2 splitters
30A Victron SmartSolar MPPT controller w/ Bluetooth app
2000-watt inverter w/ built-in transfer switch (up to 7 inverted outlets), second inverted loop for A/C
Zamp Solar portable solar panel charge port
Victron SmartShunt battery monitor w/Bluetooth app
Batteries not included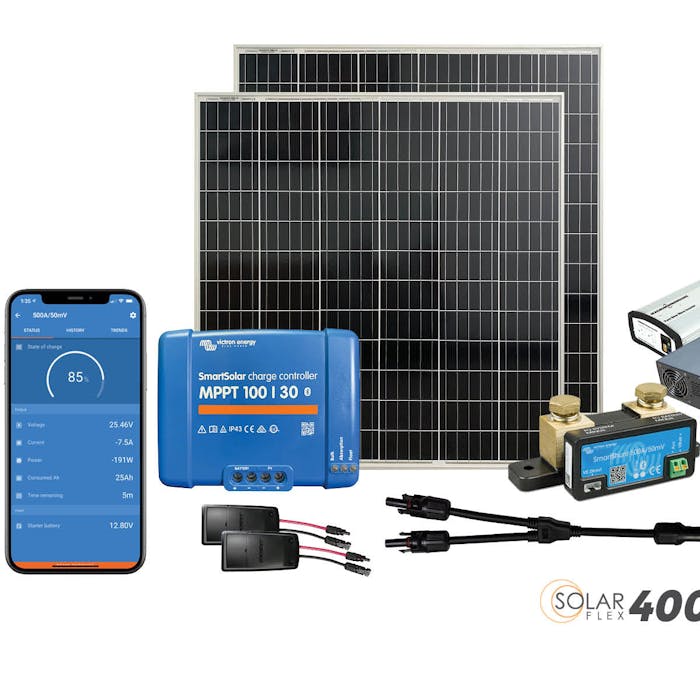 WHAT YOU CAN EXPECT
SolarFlex 400i introduces many of the conveniences of shore power, providing more campsite flexibility and minimizing (or eliminating) the disruption of a noisy generator. Designed for moderate off-grid power usage, this system allows owners to run up to 2000w of 110v powered electronics*, including small kitchen appliances, computers, CPAP machines, and entertainment systems. A 400-watt parallel solar array provides twice the energy collection and charge rate of the SolarFlex 200 system. When paired with the appropriate batteries and good sun, SolarFlex 400i puts dry camping within reach. A Victron Smart Shunt Battery Monitor 500A/50mV connects via Bluetooth to the VictronConnect App on a phone (or tablet) to monitor battery parameters, like state of charge, time to go, historical information, and much more.
SolarFlex 400i is the ultimate platform to grow with you. A second roof port, prep for an additional charge controller, as well as prep to invert the main air conditioner, gives owners the ability to enhance the system for serious boondocking adventures.**
*Microwave outlet is not included on the inverted circuit.
** Second inverter and compatible air conditioner required. See dealer for details.
GO TO SOLARFLEX 400I QUICK START GUIDE
SHOP BRANDS WITH SOLARFLEX 400I
Alpine; Arcadia; Avalanche; Bullet; Carbon; Cougar; Fuzion; Fuzion Impact Edition; Montana; Montana High Country; Outback; Passport; Premier; Raptor; Sprinter.
EXPLORE OTHER SOLAR PACKAGES
SolarFlex 200; SolarFlex 600i-L; SolarFlex 1200i-L
EXPAND YOUR SYSTEM
SolarFlex 400i is designed to be easily customized at the dealership before you take delivery of your RV or as your solar energy needs change.
ADD SOLAR ENERGY COLLECTION
ADD SOLAR ENERGY COLLECTION + FASTER CHARGING
Install 1-2 additional 200w Future Solutions panels (KRV part# 679074) and add a 15A (KRV part# 679075) or 30A solar charge controller (KRV part# 679077) in the charge controller prep location.
Upgrade 200-watt panel(s) with two 330w Future Solutions panels (KRV part# 701474) and add a 15A (KRV part# 679075) or 30A (KRV part# 679077) charge controller in the charge controller prep location.
Add 100 Ah heated Dragonfly Energy™ Lithium-ion batteries – available exclusively through authorized Keystone RV dealers
ADD SOLAR POWER TO RUN A/C
Add a second inverter (Xantrex - KRV part# 653865 or Magnum - KRV part# 686127) that is large enough to provide power for the A/C unit to the pre-wired A/C loop. In many cases, the air conditioner that comes with your RV can be used when equipped with a Micro-Air Soft Start, Soft Start RV, or similar component. Consult with your dealer for advice specific to your make and model.


TECHNICAL SPECIFICATIONS
SOLAR PANEL MECHANICAL PARAMETERS
Approximate Dimensions: 40"H x 40"W X 1.38"
Approximate Weight: 26.45 lbs.
Junction Box: IP65 x/Bypass Diodes
Solar Cable: 35.43"L
Connectors: MC4
Encapsulate: EVA
Back Cover: Composite Sheet (White)
Frame: Anodized Aluminum Alloy
SOLAR PANEL SPECS (EACH/SYSTEM TOTAL)
CHARGE CONTROLLER SPECS
Enclosure: IP43 (electronic components); IP22 (connection area)
Protection: PV reverse polarity; output short circuit; over temperature
Standard(s) Listings: EN/IEC 62109-1; UL 1741; CSA C22.2
DISCLAIMER: All information on this website is the latest available at time of publication approval. Features, floor plans, and specifications are subject to change without notice. Please consult with your Keystone dealer for more current product information and specifications.