Built for dry camping pros, SolarFlex 1200i-L is the gold standard for RV solar power performance. With this package, we've doubled both solar collection and lithium-ion battery storage. Every electrical component and outlet is solar energy ready – including the air conditioners. If energy consumption ever outstrips supply, an intelligent energy management system will restrict power to non-critical components, eliminating tripped breakers. A hybrid inverter/charger allows owners to charge batteries from multiple sources (i.e. shore power, solar array, or a generator) simultaneously.
COMPONENTS
2, 30A solar roof ports w/ MC4 connectors & 10 AWG MPPT solar charging circuits
4, Future Solutions 300-watt solar panels & CS2 splitters
2, 50A Victron SmartSolar MPPT charge controllers w/Bluetooth app
3000-watt inverter/charger w/ built-in transfer switch (all outlets inverted)
2, soft start air conditioners
Zamp Solar portable solar charge port
Victron SmartShunt battery monitor w/Bluetooth app
Battery Guardian
2, 270 Ah Dragonfly Energy heated Lithium-ion batteries
WHAT YOU CAN EXPECT:
SolarFlex 1200i-L is the ideal setup for power users looking for extended boondocking adventures. With the right conditions and ultra-fast charging, campers will have a solid power supply to run onboard systems, air conditioning, and appliances. 540Ah of stored energy allows owners to bank energy to power through days with sub-optimal weather conditions. Victron's CerboGX provides complete visibility, control, and analysis of your energy to maximize your time off the grid.
Another bonus? With SolarFlex 1200i-L your RV can be the ultimate guest quarters. A hybrid inverter allows the coach to operate as if it is on 30A service when plugged into a 10A residential outlet, simultaneously refilling the battery bank with solar and shore power.
GO TO SOLARFLEX 1200i-L QUICK START GUIDE
SHOP BRANDS WITH SOLARFLEX 1200i-L
Exclusively available on Montana.
EXPLORE PACKAGES:
SolarFlex 200; SolarFlex 400i; SolarFlex 600i-L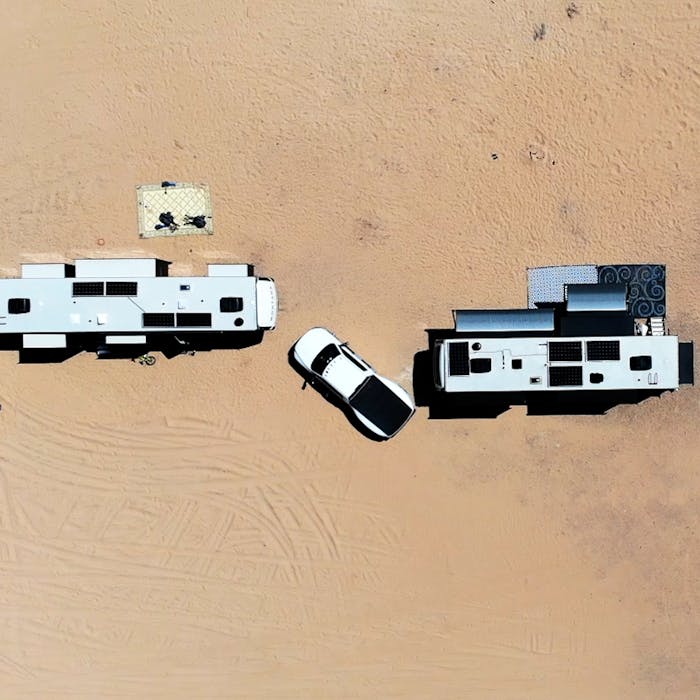 EXPAND YOUR SYSTEM
Although the SolarFlex 1200i-L is pretty darn robust, owners still have options to enhande this package.
TO ADD SOLAR ENERGY COLLECTION + FASTER CHARGING
TO ADD POWER STORAGE
Install additional Dragonfly Energy® heated Lithium-ion batteries (KRV part# 653851) and parallel cable kit, available exclusively through authorized Keystone RV dealers
TECHNICAL SPECIFICATIONS
SOLAR PANEL MECHANICAL PARAMETERS
Dimensions: 64.5"H x 39"W X 1.38"
Weight: 49.6 lbs.
Cell Size (Mono): 6" x 6"
Cell Quatntity: 60 (6 x 10)
Junction Box: IP65 x/Bypass Diodes
Solar Cable: 35.43"L
Connectors: MC4
Encapuslate: EVA
Back Cover: Composite Sheet (White)
Frame: Anodized Aluminium Alloy
SOLAR PANEL SPECS (EACH/TOTAL SYSTEM)
Pmax/W: 300/1200
Vmp/V: 32.36 (VERIFY - JUST .02 DIFFERENT FROM THE 200W PANELS)
Imp/A: 9.3/37.2
Voc/V: 39.85
Isc/A: 9.75/39
CHARGE CONTROLLER SPECS
Enclosure: IP43 (electronic components); IP22 (connection area)
Protection: PV reverse polarity; output short circuit; o ver temperature
Standard(s) Listings: EN/IEC 62109-1; UL 1741; CSA C22.2