Step up to energy independence with SolarFlex 600i-L. This end-to-end system ships with a best-in-class Dragonfly Energy® lithium-ion battery. Multiple 110v appliances run simultaneously with this package - making it ideal for remote workers, gamers, and families. With the hybrid inverter/charger and the included lithium battery storage, users will enjoy ultra-fast recharge times when it's necessary to connect to shore power to top off the battery bank. Advanced monitoring provides full visibility of energy collection and usage to maximize your time off-grid.
COMPONENTS
2,  30A solar roof ports w/ MC4 connectors & 10 AWG MPPT solar charging circuits
2, Future Solutions 300-watt solar panels & CS2 splitters
50A Victron SmartSolar MPPT charge controller w/Bluetooth app
3000-watt inverter/charger w/ built-in transfer switch (up to 7 inverted outlets) + one soft start air conditioner
Zamp Solar portable solar panel charge port
Victron SmartShunt battery monitor w/Bluetooth app
Battery Guardian System
270 Ah lithium-ion battery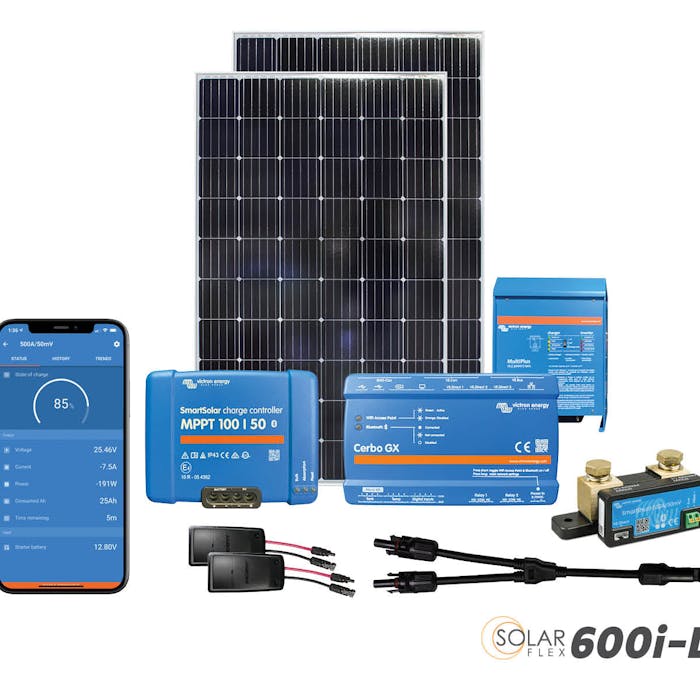 WHAT YOU CAN EXPECT
SolarFlex 600i-L equips campers for extended off-grid stays.* 600 watts of solar collection and a 50A charger will rapidly refill batteries as well as capture and convert more energy on days when conditions are less than ideal. With SolarFlex 600i-L, owners can use battery power for air conditioning and run multiple 110v components simultaneously, making this an ideal solution for remote workers, gamers, and families. As with any solar energy system, owners should monitor the battery's charge and adjust energy consumption accordingly.
*Performance will vary based on available sunlight, battery size/type, and power usage.
GO TO SOLARFLEX 600I-L QUICK START GUIDE
SHOP BRANDS WITH SOLARFLEX 600I-L
Alpine; Arcadia; Avalanche; Carbon; Cougar; Fuzion; Fuzion Impact Edition; & Raptor.
EXPLORE OTHER PACKAGES
SolarFlex 200; SolarFlex 400i; SolarFlex 1200i-L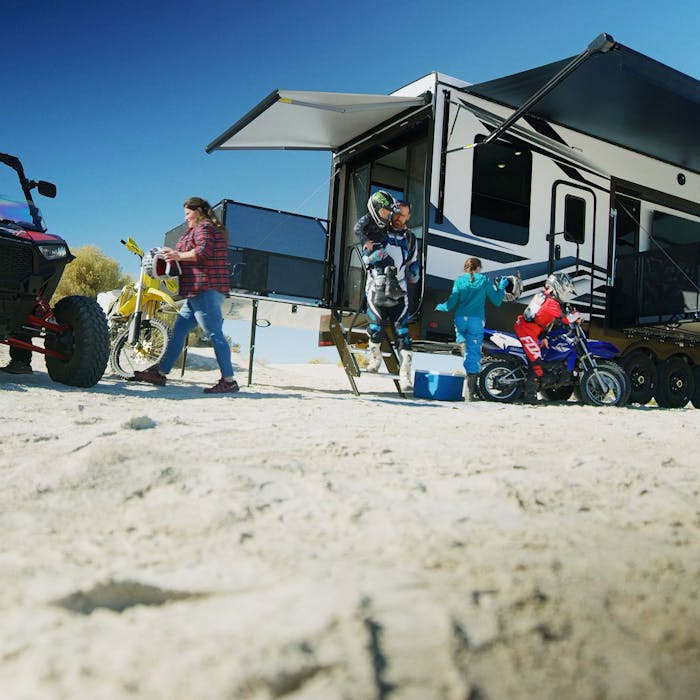 EXPAND YOUR SYSTEM
SolarFlex 600i-L is designed to be easily customized at the dealership before you take delivery of your RV or as your solar energy needs change.
TO ADD SOLAR ENERGY COLLECTION + FASTER CHARGING
Install 1-2 additional 200w (KRV part# 679074) or 300w (KRV part# 661019) Future Solutions panels and add a 50Amp (KRV part# 679078) solar charge controller to the second charge controller prep
Connect Zamp portable solar panels to the pre-wired port
TO ADD POWER STORAGE
Install a second Dragonfly Energy® lithium-ion battery (KRV part# 653851) and parallel cable kit

SOLARFLEX 660i-L TECHNICAL SPECIFICATIONS
SOLAR PANEL MECHANICAL PARAMETERS
Dimensions: 64.5"H x 39"W X 1.38"
Weight: 49.6 lbs.
Cell Size (Mono): 6" x 6"
Cell Quatntity: 60 (6 x 10)
Junction Box: IP65 x/Bypass Diodes
Solar Cable: 35.43"L
Connectors: MC4
Encapuslate: EVA
Back Cover: Composite Sheet (White)
Frame: Anodized Aluminium Alloy
SOLAR PANEL SPECS (EACH/TOTAL SYSTEM)
Pmax/W: 300/600
Vmp/V: 32.36
Imp/A: 9.3/18,6
Voc/V: 39.85
Isc/A: 9.75/19.5
CHARGE CONTROLLER SPECS
Enclosure: IP43 (electronic components); IP22 (connection area)
Protection: PV reverse polarity; output short circuit; over temperature
Standard(s) Listings: EN/IEC 62109-1; UL 1741; CSA C22.2