Cortni Armstrong is a paid brand ambassador for Keystone RV Company.
Perhaps better known as The Flipping Nomad, Cortni is a full-time RVer who happens to run a company that flips "pre-loved" RV's, customizing them for the unique taste and lifestyle of their new owners. In 2019, Keystone RV partnered with Cortni to build "The Ultimate Montana," a show-stopping masterpiece that included three ultra-sonic water vapor fireplaces, a free-standing bathtub, custom keg-o-rator, pizza oven, an 85" projection television (among other things).
Hey Nomads! Cortni here.
I was so proud to partner with Keystone to build The Ultimate Montana. I love Montana fifth wheels and love how they are leading the industry in towable RVs. Keystone thinks outside the box and they aren't afraid to push the envelope. In recent years, there has been a shift in consumers wanting more options for features and interiors. Keystone has answered the call in a big way.
The company has really stepped up their game for the 2021 models. Here is a list of my four favorite travel trailers that Keystone has for 2021!
(Click here to see my favorite 2021 Keystone Fifth Wheel models.)
What I love: There is room for the entire trailerhood
If ever there were a Swiss Army Knife of RVs, this Passport is it. It won Best in Class and also Best of Show from RV News for obvious reasons. The coolest feature of this floorplan is the second bedroom. It has not one, not two, not even three, but FOUR full size bunk beds! That is the first time I have seen that. It has room to sleep the entire trailerhood. There is a great feature with the bottom bunks too. They fold up to access the storage that is hidden under the bed. The living area has the option of Keystone's unique pivot furniture. The back of the dinette is able to flip over and act like the side of the couch. It turns the dining bench seat into an extension of the couch creating a lounger. It is a brilliant way to have a bigger couch without having to give up dining space. Like I've said time and time again, multipurpose pieces is the name of the game when maximizing space. This Passport nailed it. It truly is the Swiss Army Knife of Keystone floorplans.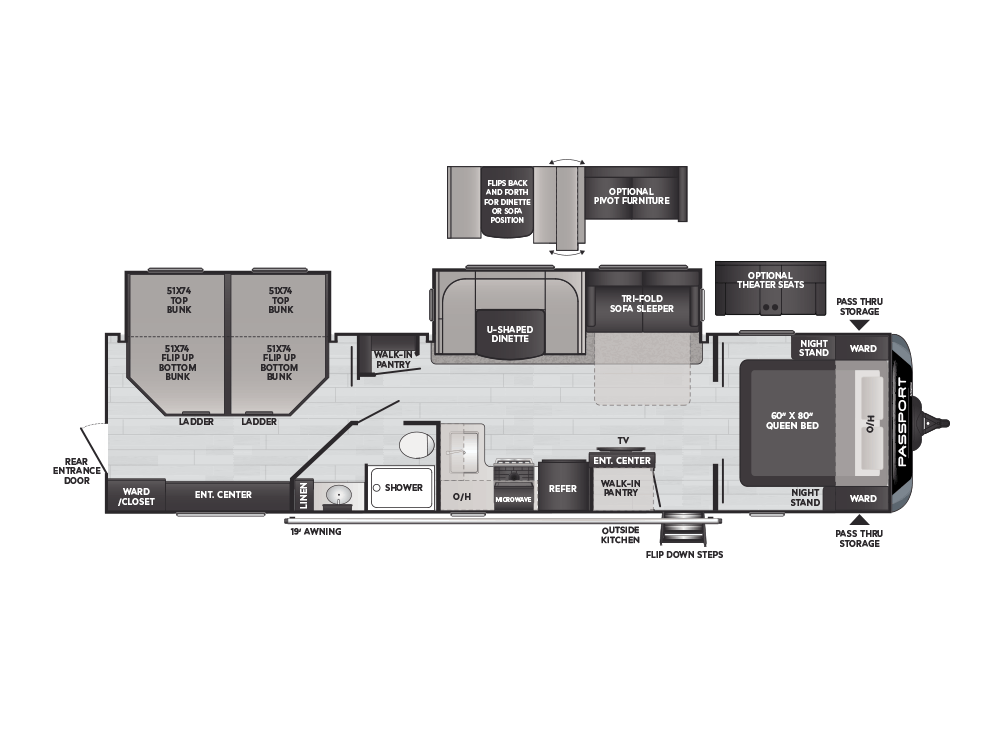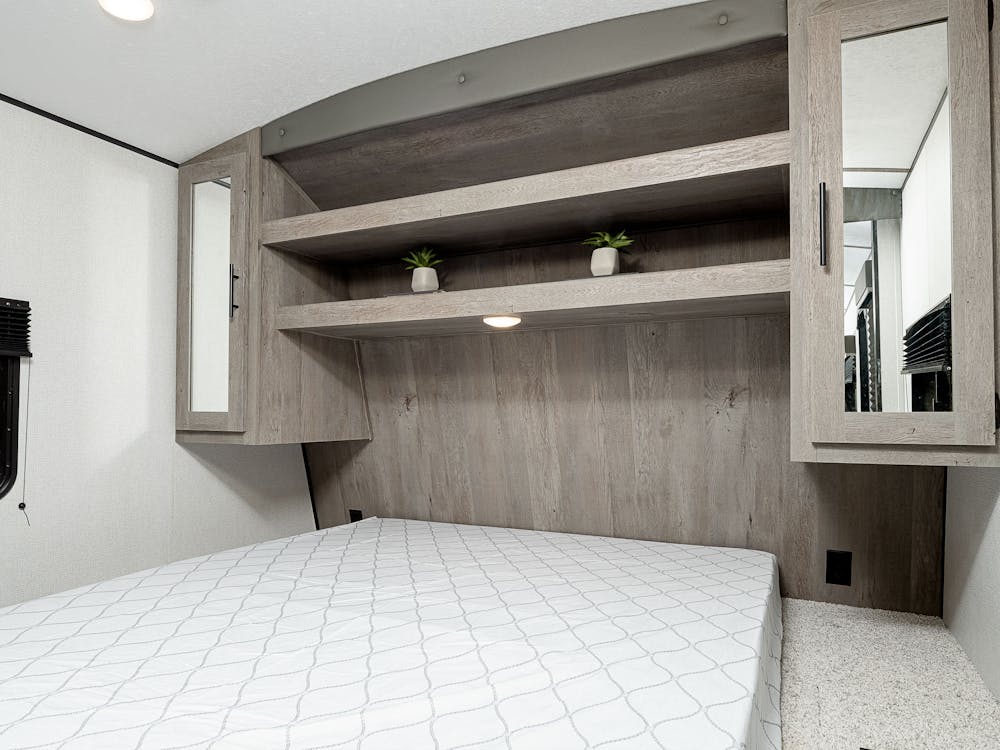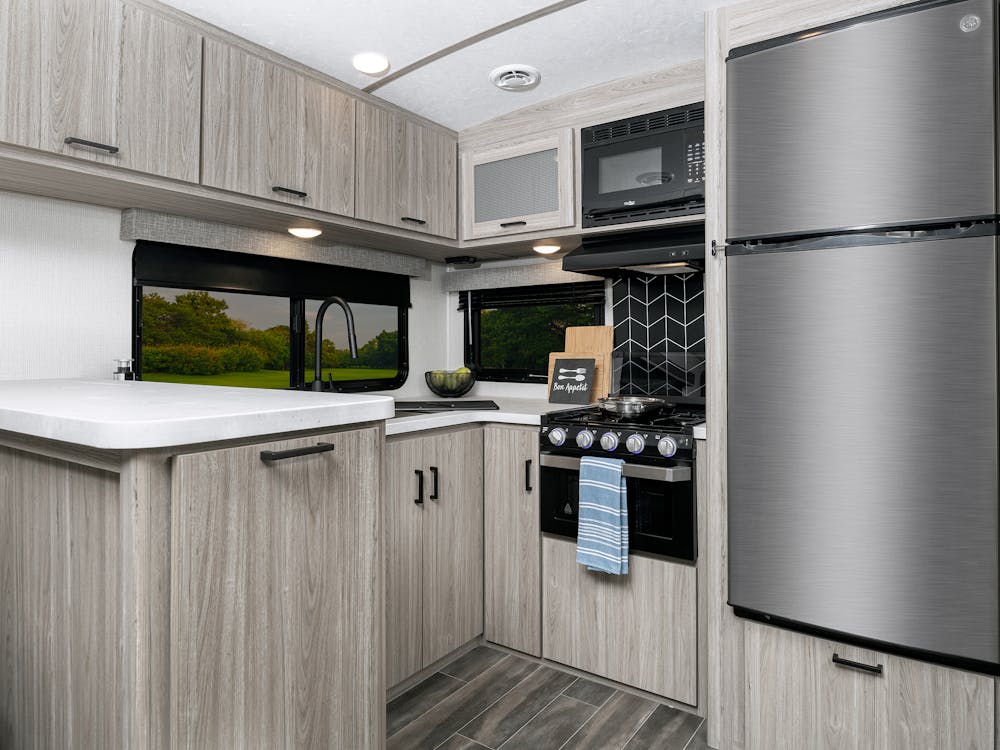 What I love: Discrete second bedroom.
Mid-bunk floorplans made a big splash in the fifth wheel world a few years ago. It took a while for travel trailer work to adapt one, but it was worth the wait. This Cougar's floorplan does a fantastic job of disguising the second bedroom. The way it is configured behind the fireplace makes it feel like you aren't giving up any living space to have it. The second bedroom would be a great office. I'm big on having a separation of work and home but that can be really hard to do in 250 square feet. This Cougar allows you to do that. It would also be a great place for the kids to escape to. They would feel like they have their own corner of the RV. I also love that this floorplan has rear kitchen. Rear kitchens are my favorite because they feel a lot more like a house. You typically enter a house in the living space, and with a rear kitchen, you enter the RV in the living space. It flows like a residential house. Click here to learn more about the Cougar 31MBS.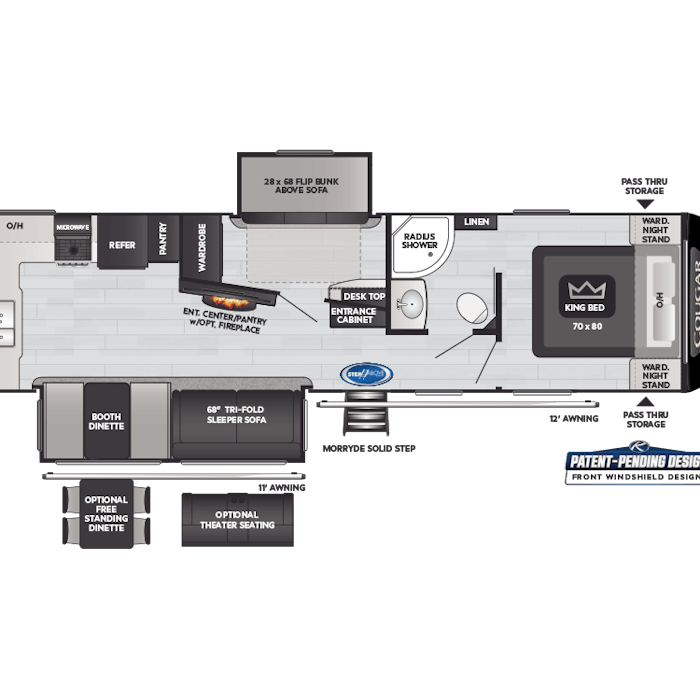 What I love: The rear windows
This floorplan is an improvement on the Springdale 202RD which has been around for years and is one of my all-time favorites. I am big on natural light so the thing I love so much about this floorplan (and the 202RD) is the huge windows at the back of the rig. There is hardly any wall space back there because the windows are so big. It is awesome! This new and improved 220RD has a smaller dinette than its 202RD counterpart, but that allowed room for a couch. This unit is big enough to feel spacious but small enough to still be easily maneuverable. It checks all of the boxes.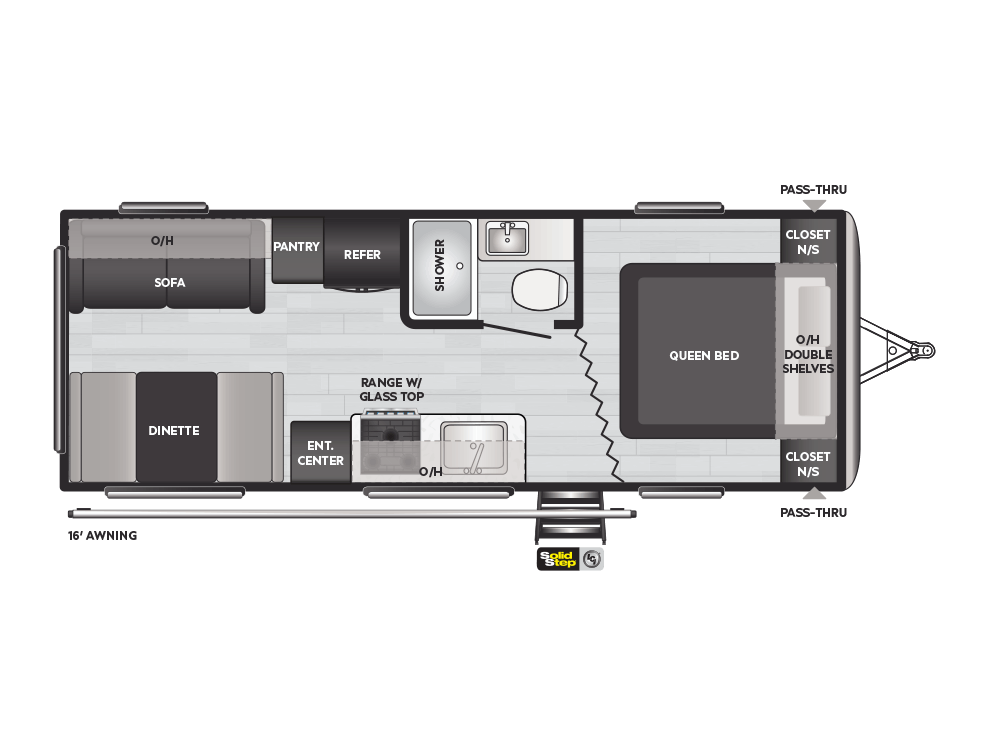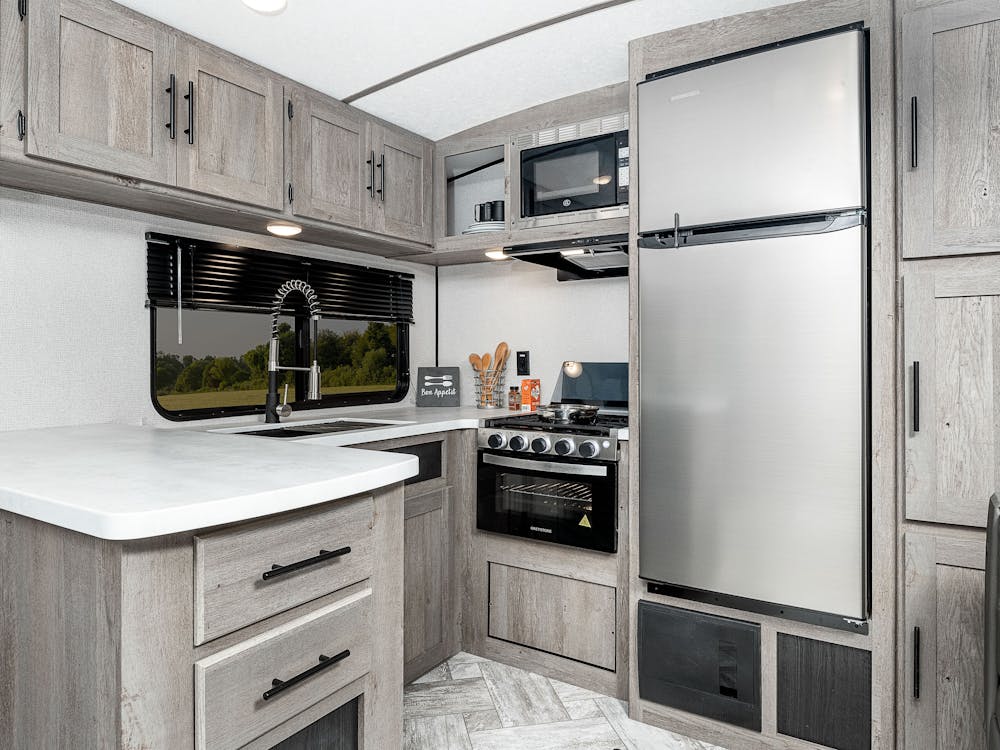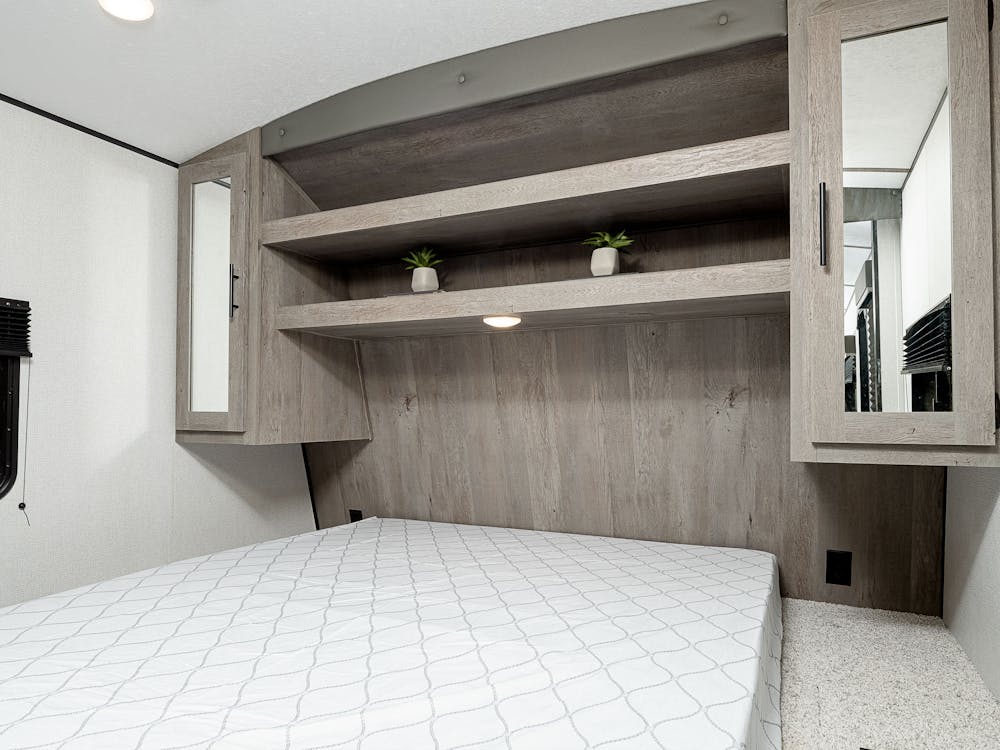 What I love: Extra living space without extra towing length
One of the coolest features about this Outback is the rear slide. Not only does it have a king size bed, but it gives you about 5 extra feet of living space without having 5 extra feet of towing length. The slide comes in over the dinette and sleeper when it is in. It's a great way to maximize the footprint. I also love the toy hauler area in the front. It is a great amount of flex space. Even if you don't have a toy, that front area would be a perfect room for kiddos. It has bunk beds that fold down from the wall and a separate door. You'd easily be able to keep the kids' toys contained to that room.