With so many different configurations from which to choose, which fifth wheel floor plan will really be the best for you? The Flipping Nomad, Cortni Armstrong, shares her point-of-view.
Hey Nomads! My name is Cortni but you might know me on Instagram as The Flipping Nomad (@theflippingnomad). I have lived in an RV full time for the last 6 years. I have a business transforming traditional RV into beautiful, one-of-a-kind tiny homes. Last year Keystone RV Company and I joined forces to build the most insane fifth wheel any of us could have ever imagined. The Ultimate Montana is a show stopping masterpiece with three ultra-sonic water vapor fireplaces, a free-standing residential bathtub, a custom kegerator and an 85-inch projector TV (just name a few of the insane features).
I was so proud to partner with Keystone to build the Ultimate Montana. I love their Montana fifth wheels and love how they are leading the industry in towable RV's. They think outside the box and they aren't afraid to push the envelope.
In recent years, there has been a shift in consumers wanting more options for features and interiors. Keystone has answered the call in a big way. They have really stepped up their game for the 2021 models. Here is a list of my six favorite fifth wheels that Keystone has for 2021!
P.S. Travel trailer peeps, I didn't forget you! Check out my favorites here.

What I love: The size of the shower and the kitchen I think we all know how laughably small a traditional RV shower can be. It feels like the walls could double as your loofah! Just soap those babies up, spin, and your shower is done. The shower in the Alpine 3790FK is the biggest I have ever seen. It is easily double the size as some traditional RV showers. This bathroom also has two vanity sinks. That is not a common feature! The other thing I love about this floor plan is the kitchen. Rear or front kitchen fifth wheels are my all-time favorite floorplans. Traditionally, you enter RVs in the middle of the rig. Therefore, with mid kitchen RVs, you are entering the RV in the kitchen. This is not how you typically enter a house. You usually enter through a living space. So, I love that front or rear kitchen RVs have living spaces in the middle and therefore, you enter the RV into the living space. This makes them feel a lot more residential and flow more like a house. I love that this Alpine has a front kitchen, and I love how massive it is! It has some of the most counter space that I have seen in a fifth wheel. I also love that it has the front windshield design. It's a great way to let in a lot of natural light (and peek at what's happening around your camp). This rig is definitely set up to be a couple's getaway with only two barstools. You don't need to waste space with a dining area for 4+ people if you aren't going to use it regularly. But with that said, if you have company over, there is plenty of room to store TV trays and turn the living space into one giant dining room. There is seating for six plus two at the bar top! The bathroom in this Alpine is also in the 2021 Alpine 3712KB. I've decided that KB stands for Killer Bath!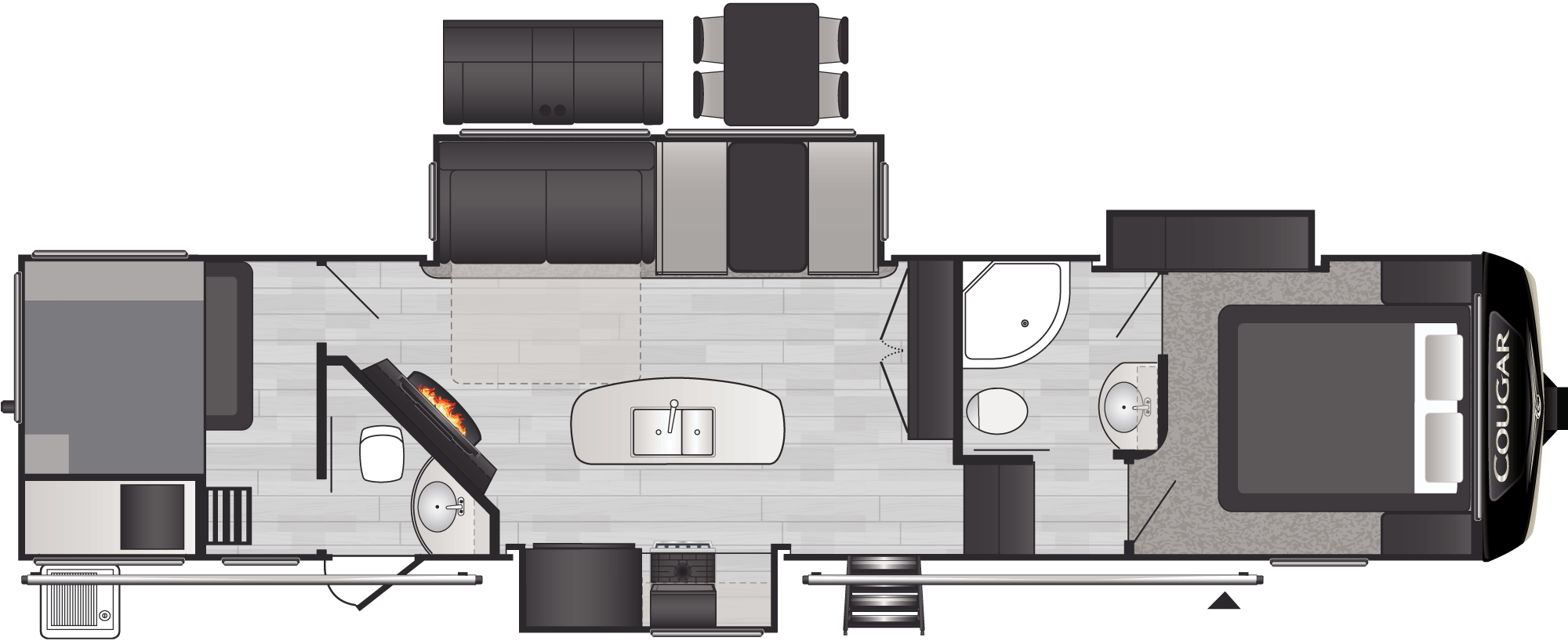 What I love: Three large stationary beds, two bedrooms, the pantry, and an angled fireplace. Finding the perfect RV with bunks can be difficult, especially if you want one that has beds bigger than a twin, or does not consider a pull-out couch to be a bunk bed. This Cougar floor plan nails the solution to that problem. At the rear of the coach, there is a second bedroom with two full size beds and its own half bath. It is the perfect getaway for kiddos or to give guests their own area. There is also a good-sized closet. It eliminates the headache of where to store things when a lot of people are using the rig. On that same note, the kitchen has an enormous pantry! This unit will sleep 10 people and that pantry has room to store enough food for everyone. I love the style of the doors it too. They look very residential. Across the living space from the pantry is an angled fireplace. Nearly all RVs have furniture and cabinets that are squared off with each other. Since the spaces are so small you don't really get the option of being able to angle something. Having this angled fireplace adds a lot of interest to the space. It's a great subtle feature.

#3: 2021 Sprinter Limited 3560RLB
What I love: Three fridges, two kitchens and one walk-in pantry That sounds like RV version of the The Twelve Days of Christmas. Three fridges, two kitchens and one walk in pantry is taking this party rig to the next level. It is a dream floorplan for anybody who likes to entertain! It has a traditional kitchen, with a kitchen extension that features a second sink, a mini fridge and a bar top that will seat two. That is in addition to the dining table that will seat four. There is also a walk-in pantry and an outdoor kitchen! Just add ice and this baby is a party on wheels.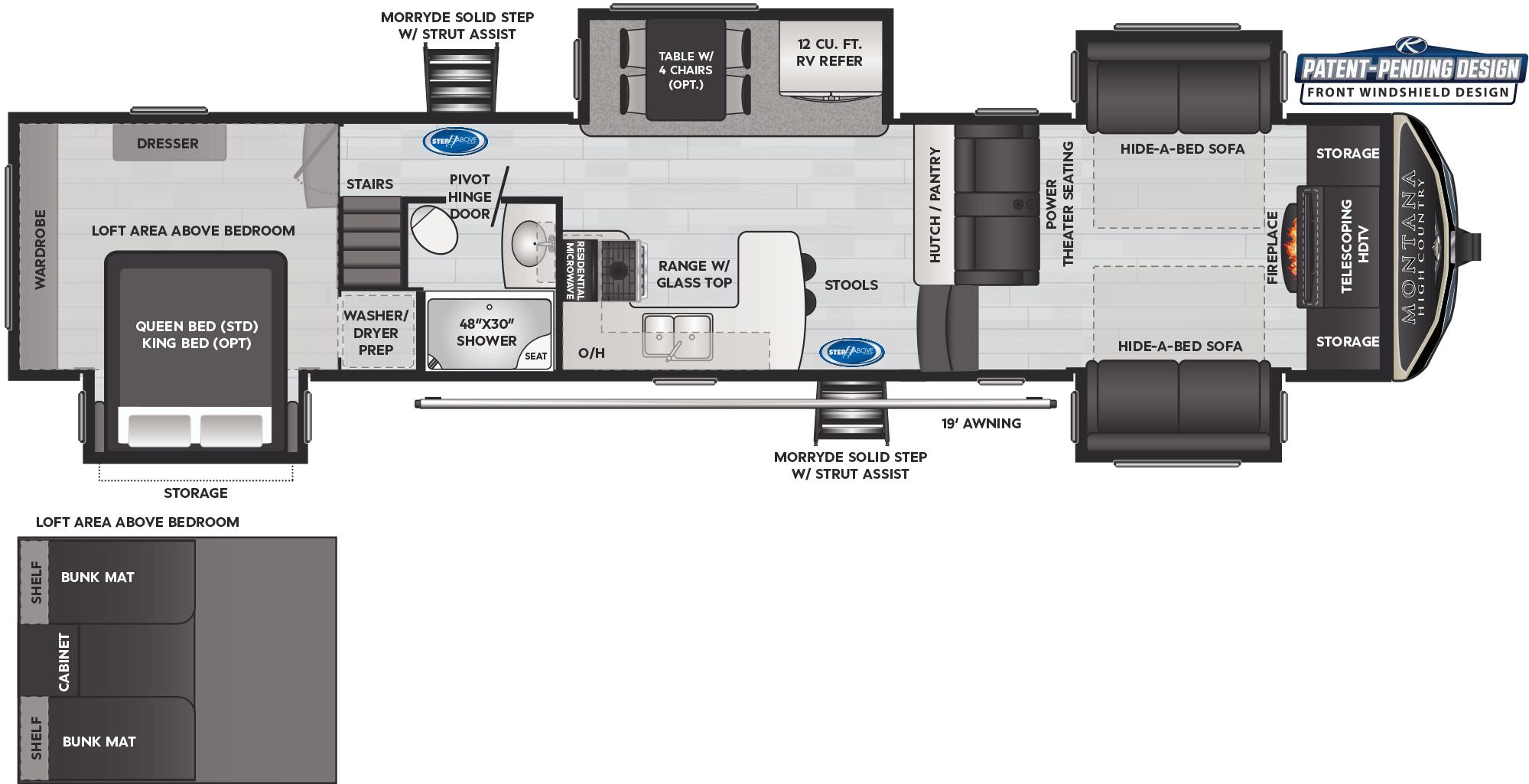 #4: 2021 Montana High Country 376FL
What I love: All of the elevation changes. Unique RVs are my love language and this High Country has one of the most unique floorplans I have ever seen! At the rear of the coach, you take two steps down to enter the master bedroom. This is the first time I have seen that. Just outside of the entrance to the master is a full size, residential style staircase that leads to the loft above the master. It a great bedroom and hideout for the kiddos. I also love U-shaped kitchens. This High Country has one with a counter extension that will seat two people on barstools. That is in addition to the dining table that will seat four. Behind the barstools is yet another elevation change with two steps up into the living space. In total, this High Country has four elevation changes. That is definitely a first. It is so unique!

What I love: Hidden pantry, barstools and dog bed nook. Multipurpose furniture is the name of the game when you are trying to maximize space. Keystone nailed it with this Fuzion! To look at the entertainment center and fireplace, you can't tell that they are hiding a secret. It looks like they are on a wall but that wall is actually a door! That door is how you access the pantry. I love this feature because not only is it dual purpose, it is also a beautiful. Opposing the hidden pantry is a U-shaped kitchen (my favorite). It has a counter extension with two barstools that tuck away into a nook. I love this for several reasons. The first reason is that the barstools are attached to the cabinet on a swivel so you don't have to remember to secure them on travel days. Also, the nook in the cabinet is an ergonomic design that allows you to have room for your knees while sitting on the barstools. But my favorite aspect of this feature of this is that the nook can also double as a dog bed nook! If you've traveled with big dogs, you know how annoying their beds can get. It seems like no matter where you put them, they're always in the way. This nook gives the pup somewhere to be without having to give up any floor space. And bonus, it feels like a little cave in there and we all know how much pups love that! Another thing I love about this Fuzion is how short it is. A lot of toy hauler are extremely long, which can make maneuvering them tricky. This Fuzion packs a punch for how short it is.

What I love: Double vanity and double slides in the bedroom Traditionally, RV's only have one vanity sink and one slide in the bedroom. The Montana solves both of those problems! It has two sinks in the bathroom and two vanity mirrors. The total counter space in the bathroom is about 5 feet wide, which is huge! It is hard to find an RV with that much counter space. It also has a deep linen closet in the bathroom. Now there isn't a need to remember to grab your towel from the stack in your bedroom before you shower. This bathroom has more than enough storage for everything you could need.
I also love that it has opposing slides in the bedroom. Most fifth wheels only have one slide which creates a really narrow walking space at the foot of the bed.
The dresser in this Montana is in the second slide so it does not take up any floor space. This creates a wide walking space around the bed. A bonus of this floorplan is all of the storage in the kitchen. It has a stackable washer and dryer closet in addition to a full-size pantry. The amount of room in this unit is unreal.