Fuzion & Raptor are breaking new ground with a bed-to-bar garage conversion and a wraparound sofa built for 10.
WHAT'S EXCITING:  The ultimate outdoor party kitchen and a true chef-style kitchen in a Toy Hauler that features high-top bar seating!
This 13 ft garage toy hauler floorplan is packed with features including an innovative outdoor cooler box that is perfect for drinks. The u-shaped kitchen built for a chef is spacious with plenty of cabinetry, counter space, and built-in bar stools for 3 people. The cozy entertainment space includes a fireplace and TV angled directly across from the sofa. 
Plenty of storage is sprinkled throughout this floorplan with Fuzion's smart storage solutions that include washer/dryer prep in the bedroom and not in the garage opening up more space for what owners are hauling, the Fuzion Front Stor/Mor Box that is the perfect storage solution for owner's patio steps, the Fuzion utility storage that can house tire chains, and the Fuzion super storage that is perfect for fishing poles, brooms, and cleaning supplies. The purpose of these innovative storage options is to get everything off the floor in the garage so that owners can have space for whatever they are hauling. 
All 2023 Fuzion and Fuzion Impact fifth wheels now come standard with a king-sized bed.  Let's not forget the Keystone Exclusive SolarFlex™ system that comes standard on every floor plan in the Fuzion line-up. Fuzion owners have the choice between the standard SolarFlex™ 200 package, the optional SolarFlex™ 400i package, and the optional SolarFlex™ 600i-L package. Dragonfly Lithium Batteries are also now standard equipment on all 2023 models. Make sure that you stop by and see this floorplan to see Fuzion's all-new and exclusive garage bar.
Length: 44'11", Weight: 15,910, Starting MSRP: $159,467. Build and price your dream Fuzion 421!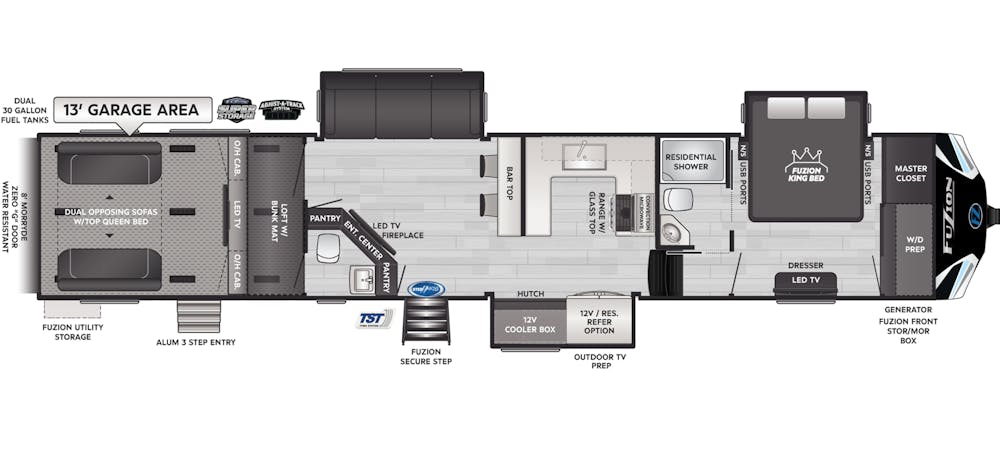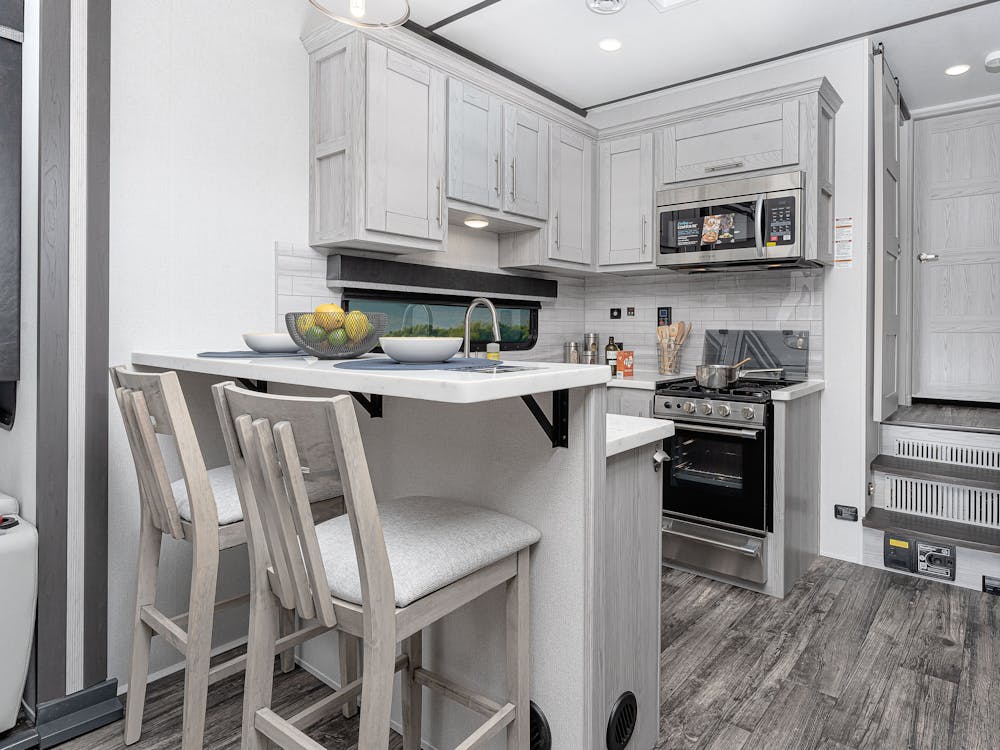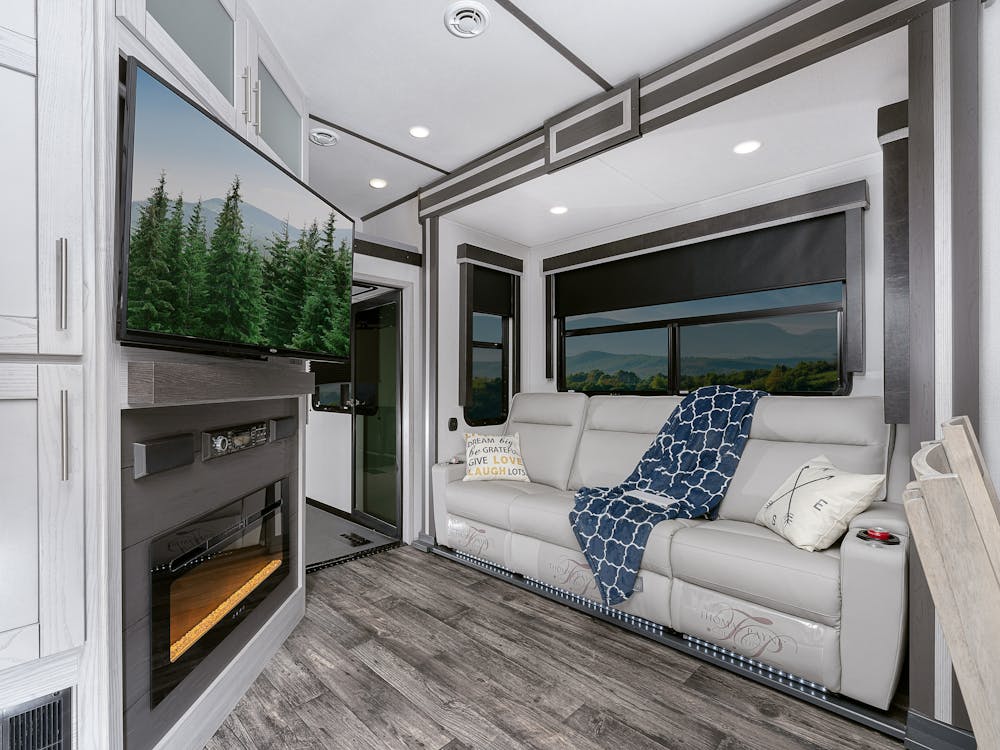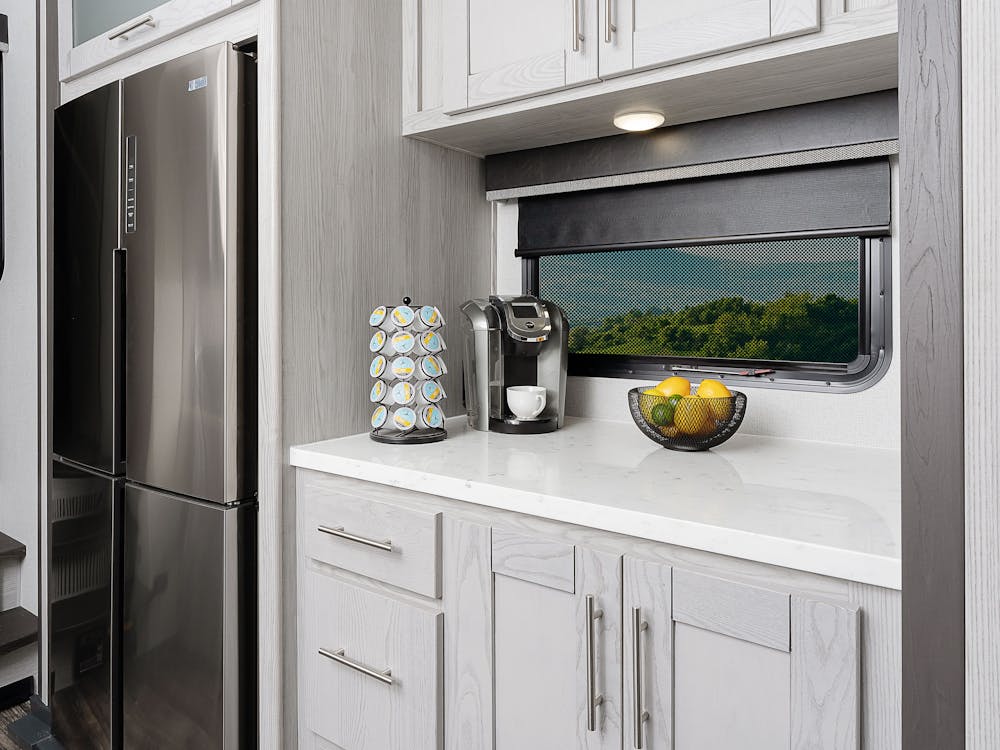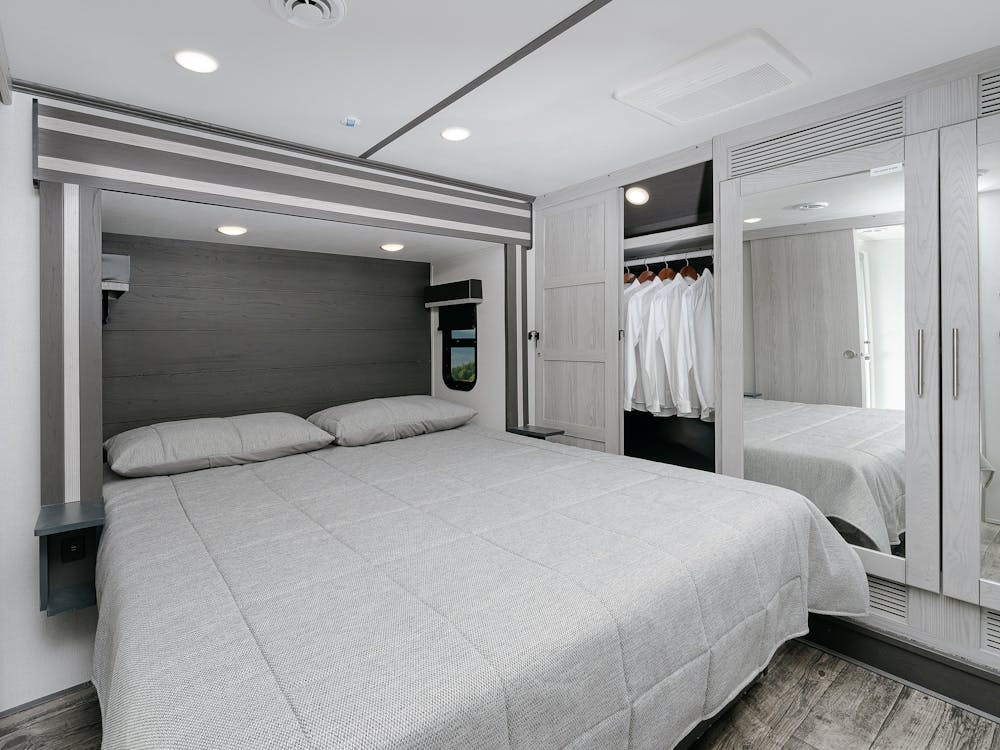 WHAT'S EXCITING:  Raptor 431 is Keystone's biggest toy hauler ever – more liveable, more storage, and built for the bigger toys.
Raptor is paving the way with another innovative floorplan to the industry, the all-new 2023 Raptor 431 clocks in at 44' 11" – the brand's longest model. Product manager Colin Clark took advantage of the extra length to shuffle the Raptor 431's camp-side slide layout – pulling the recliners forward and nearly tripling the size of the pantry. In a category where living space is typically awkward at best, this creates a comfortable cross-conversational layout with the recliners nested into the L-shaped sofa. The entertainment center includes the obligatory giant flatscreen television and new Kicker sound system with 2 amplifiers, 8" upgraded speakers, and subwoofer. 
The 431 is one of three floorplans in Raptor's 2023 lineup with an east/west bed slide, opening up the nose for a large wardrobe, and freeing up garage space by moving the washer/dryer hookup to the front of the unit. As you might have guessed, this beast also features an impressive 13' 6" garage – Raptor's longest. 
"In 2021-22, the toy hauler segment moved to shorter models and emphasized the garage as a flexible living space. As we look to 2023, we wanted to build a brawny, but livable model for the traditional toy hauler buyer and power sports enthusiast" said Clark.
"Everything about the 431 is beefed up and ready for owners to go big with their toys and their crew. Higher-end buyers are likely to be more resilient to shifts in the economy. For that reason, we expect the 431 to be a valuable addition to dealer inventory this year."
The Raptor 431 will feature a new optional "Long Haul Package" which adds a tire-pressure monitoring system, iN-Command® SMART RV control system, Furrion® side cameras with a 7" screen, onboard air compressor, and 50 amp electric cord reel. The brand has also added Girard on-demand water heaters to all models. Like all Keystone RVs, Raptors come with SolarFlex™ factory-installed solar power systems with optional Dragonfly Energy Lithium-ion batteries.
Length: 44' 11", Weight: 16,320, Starting MSRP: $153,668. Build and price your dream Raptor 431 here!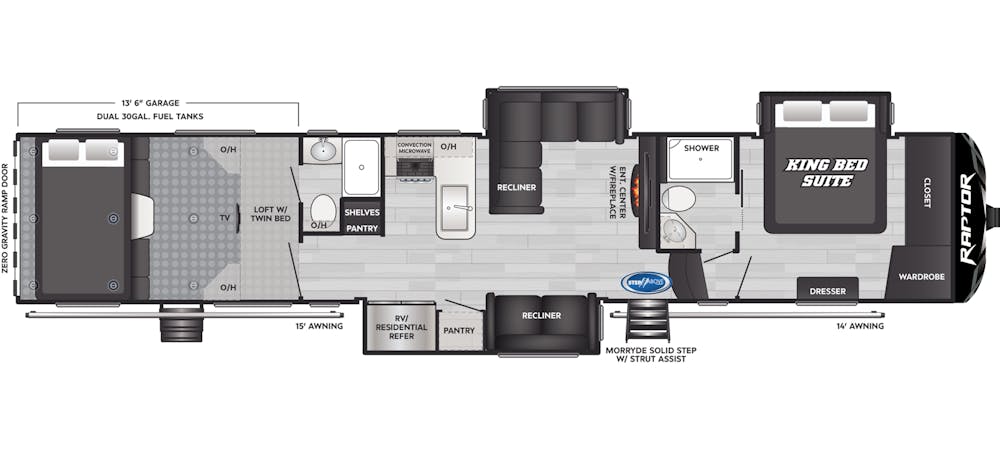 WHAT'S EXCITING:  The Raptor 424 is giving toy hauler owners the conventional living space and bedroom that they deserve.
The second new 2023 addition to the Raptor lineup is the Raptor 424 floorplan. This floorplan took elements from the bestselling Raptor 423, added 6 inches in length, and a lot more storage space in the bedroom. The new and improved main bedroom features a standard east-to-west king bed slide, a full front closet with washer and dryer prep freeing up that space in the garage, and a built-in dresser. The spacious main bathroom has 4 full drawers, one lower cabinet, two medicine cabinets, AND a full linen closet for storage. Boasting a 13 ft garage, this space not only hauls but can double as a sleeping space, thanks to the built-in happiJac system, or more living space to take in the gorgeous views. With Raptor's industry-leading frame welded tie-down system, owners can safely and securely haul their favorite toys. 
In the main living and kitchen area, owners get the luxury of Thomas Payne® cross-conversational reclining seating that has a great view of the campsite when the elevator TV is down and the TV when it is up. This entertainment center also features an electric fireplace for owners to warm up on chillier adventures. The u-shaped kitchen provides ample storage and counter space and features a three burner cooktop, convection microwave, and, new for 2023, all Raptors now come standard with a 16.5 cubic foot 12-volt refrigerator which pairs perfectly with the Keystone exclusive SolarFlex system and optional Dragonfly lithium-ion batteries. 
Length: 44' 6", Weight: 15,507, Current MSRP: $154,523. Build and price your dream Raptor 424!