2023 was an amazing year for Keystone's legendary fifth wheels. Cougar and Montana were the nation's best-selling fifth wheels overall (Cougar) and in the luxury category (Montana). Sprinter woke up the world with amazing floorplans for big families. Alpine, Avalanche, and Arcadia flexed their muscles bringing loads of buyers into the category.
For 2024, Arcadia, Alpine, and the new Alpine Avalanche Edition are sporting stunning new exterior makeovers, and all we can say is WOW! You won't want to miss Cougar Sport and Arcadia Select new short fifth wheels at unbelievable prices. You'll also get a sneak peek at Cougar's new multi-functional furniture and sexy all-black Midnight Edition. (Trust us, it's crazy.) As always, Sprinter and Montana are bringing new floorplans, and interior and exterior refreshes that will make you rethink sticks 'n bricks altogether.
ALPINE 3011CK | Luxury Full-profile 5th Wheel 
WHAT'S EXCITING:  Best-selling layout redesigned to be under 35' with better functionality and storage.
Across the board, smaller fifth wheels are where it's at this year. Alpine's 100" wide-body 3011CK took a fan-favorite floorplan and cleverly reconfigured the primary suite to add functionality and storage while shrinking the model's overall length. The new don't miss bath includes a linen closet with protective 3-sided pull-out shelving, a hidden inline toilet paper dispenser with roll storage, and a pull-out waste can. A new recessed vanity mirror vanity opens up space and is complemented by additional storage in the vanity.
To transform the kitchen, Alpine added four pull-out pantry drawers, a bank of drawers next to the range, and hidden storage behind the range hood. A pull-out countertop was added for more prep space while cooking. Shoppers can choose from an 18 cu. ft residential refrigerator with an icemaker or a 20 cubic foot 12V fridge, both provide more than enough food storage for long stays.
Length: 34'11", Weight: 12,145. (Prototype specs, subject to change.)
ALPINE 3303CK | Luxury Full-profile 5th Wheel
WHAT'S EXCITING: Fore and aft opposing slides open up to nearly 400 square feet of living space at just 37'.
Remember the fan-favorite floorplan we were just talking about? Alpine's NEW 3303CK gives owners all of the goodness of the 3011CK but with another 3' to create a super spacious primary suite. At just over 37 feet, floorplan has almost 400 square feet of living space thanks to its 100" wide body design and four slides. The master suite has a dual-sink vanity and spacious 48" shower. The linen closet is a bit larger as well. The additional length opens up the space around a king-sized bed and makes room for a wide dresser with two banks of drawers. Above the dresser, the brand has added a SMART television and a 36" x 22" window.
Length: 37'3", Weight: 13,165 (Prototype specs, subject to change.)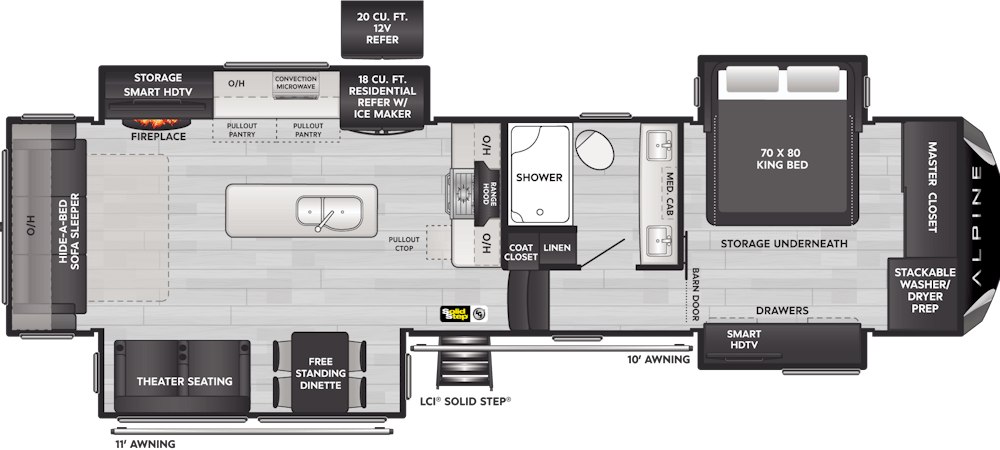 WHAT'S EXCITING: Rear kitchen (LOVE!) under 29' with an out-of-the-box dining/work-from-anywhere solution.
This 28' 6" fifth is the ultimate getaway RV for couples or solo travelers. Our favorite rear kitchen floorplan serves up panoramic views, ample counter space, and storage. The 246SLRK's 12V refrigerator is fully accessible with the slides in. The kitchen doesn't stop inside, there is also a mini refrigerator that plugs into an inverted outlet (when an inverter is installed) and a griddle on the exterior of this floorplan.
What makes this floorplan really exciting is its new flexible dining space. With remote work on the rise, Arcadia wanted owners to have a large workstation without having to sacrifice eating space. This camp-side table with a window above is configured for dining or as a workspace. The push of a button reveals a 50" SMART TV on a lift, positioned across from a pair of theater seats or an optional tri-fold sofa. Flexibility at its finest!
Length: 28'6", Weight: 7,800 (Prototype specs, subject to change.)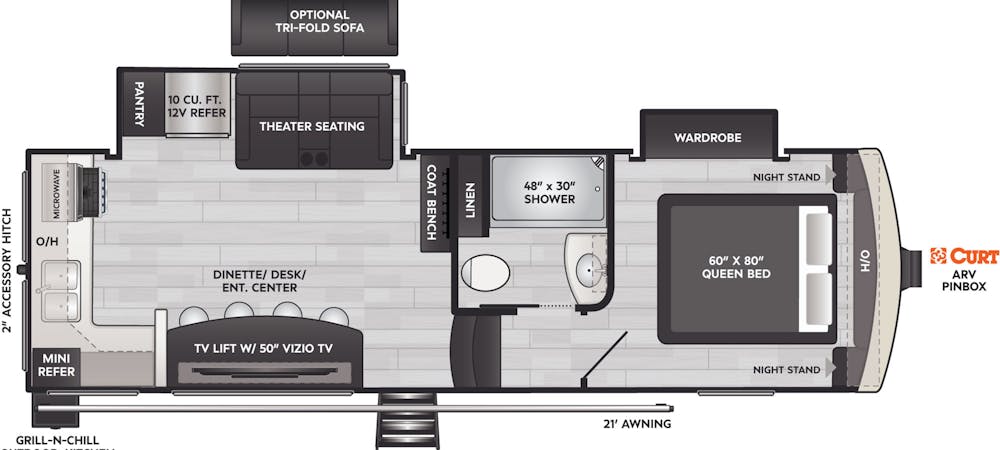 WHAT'S EXCITING: 2023's RV OF THE YEAR enters the Super-Lite category
With its exceptionally functional U-shaped kitchen and a rear living configuration designed for entertaining, 294SLRD is the longest coach in Arcadia Super Lite's 2024 lineup. At just over 33 feet, this triple-slide floorplan weighs under 9,000 lbs. The rear entertainment center with its 50" SMART TV, fireplace, and storage surround anchors this layout with excellent viewing angles from all seating and the kitchen. Arcadia's twist on the design is an extra-long 82" sofa sleeper in addition to two theater seats and a free-standing dinette. The party doesn't stop inside, this floorplan is equipped with an outdoor kitchen featuring a griddle and mini refrigerator. Stepping upstairs, this floorplan mimics the bedroom and bathroom layout from the Arcadia 246SLRK, with its generous 48" shower and queen bed.
Length: 33'2", Weight: 8,775 (Prototype specs, subject to change.)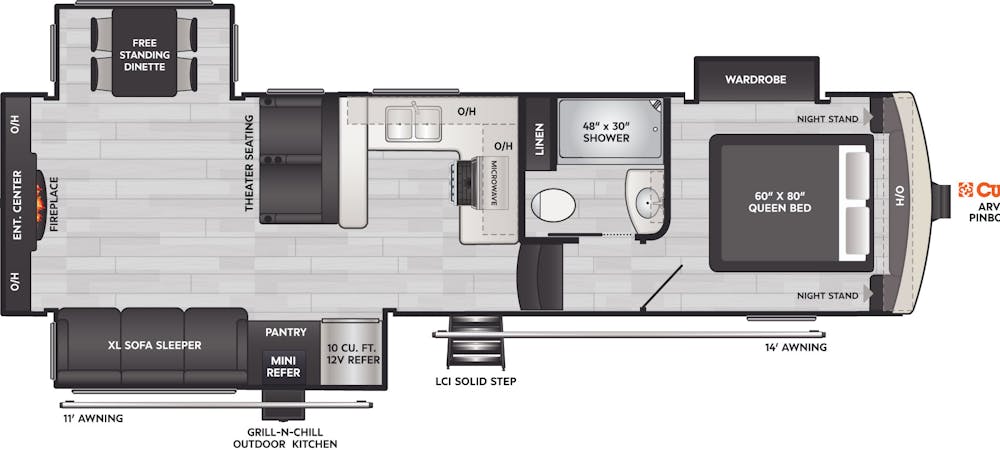 COUGAR 260MLE | #1 Mid-Profile 5th Wheel
 WHAT'S EXCITING:  Innovative dining/entertainment configuration
In 2023, Cougar and their new line extension Cougar Sport, dominated small footprint fifths. The new 260MLE breaks conventions again to deliver an of-the-moment travel solution for solo travelers or couples who like to mix work with pleasure. As you step into this sub 31' coach, you're struck by how uncommonly spacious it seems. Its wraparound rear kitchen feels decadent with its seemingly endless counter space, pull-out trash can, coffee station, and hutch. A ceiling fan whirls comfortably overhead. After a beat, you realize what makes the 260MLE so special: the dinette has been eliminated in favor of a tabletop that can be pulled out and stowed above the fireplace. Owners will enjoy campsite views while dining or working at the convertible table which doubles as the coach's entertainment center with a 50" SMART television. Owners will find two upholstered, wood folding chairs tucked cleverly into a storage space in the entertainment center when not in use.  
Length: 30'11", Weight: 9,760 (Specs are estimated based on model prototype and are subject to change.)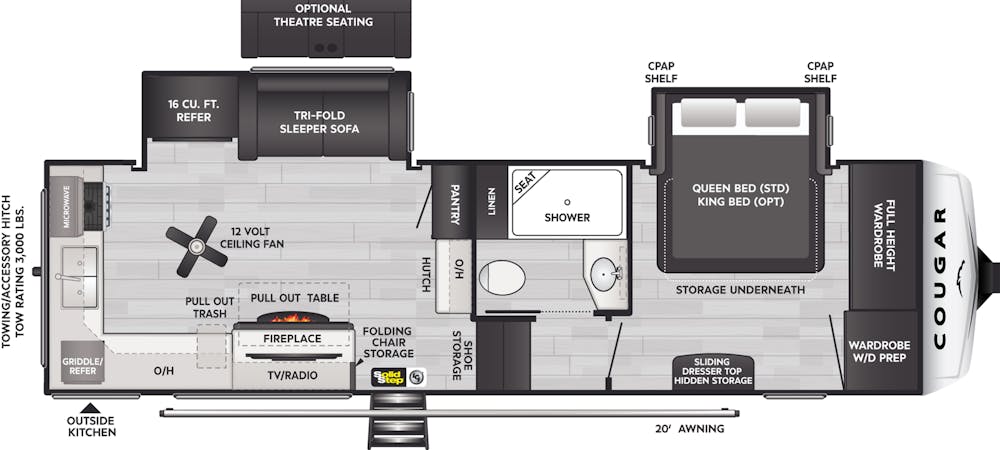 MONTANA 3531RE | Luxury, Full-Profile Fifth Wheel
WHAT'S EXCITING:  Sectional seating + wrapraound kitchen in just 38'
Last year, Montana expanded the shorter end of the brand's lineup with the 3123RL and 3231CK. Buyer enthusiasm for the new shorter fifth wheels encouraged product manager Nick Ebenroth to add a third compact unit for 2024, the Montana 3531RE. The new floorplan makes shrewd use of its footprint with a wraparound peninsula kitchen flanked by a nearly 60" wide pantry. From behind a massive countertop, owners look at the living area that is outfitted with a gorgeous 9.5' x 7' sectional sofa, dining nook, and rear entertainment center with a 45" SMART TV. 
Length: 38'6", Weight: TBD (Specs are estimated based on model prototype and are subject to change.)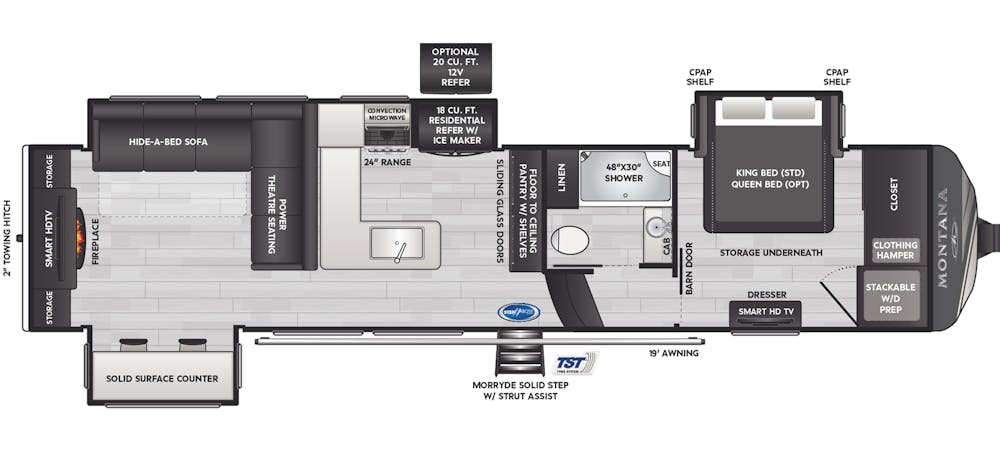 SPRINTER 3810QBS | Wide Body, Full-Profile Fifth Wheel 
WHAT'S EXCITING:  Crowd-pleasing bunkroom with FOUR queen beds.
In 2023, Sprinter wide-body delivered the ultimate large family floorplan with the introduction of the 3900DBL. For 2024, Sprinter fortifies its position as the fifth wheel of choice for camping families, with the introduction of the 3810QBS, a bunkhouse with four double beds, a massive wardrobe, a mini fridge, television prep, and a dedicated half bath that is accessible from the campsite. Flip-up bottom bunks combined with Sprinter's 100" wide body gives owners loads of space to store oversized gear.
Length: TBD; Weight: TBD (Specs are estimated based on model prototype and are subject to change.)