Take Your Camping Experience to the next level
Dragonfly Energy's legendary heated Lithium-ion batteries are now available as factory-installed equipment on most 2023 models, exclusively on any Keystone RV. Dragonfly batteries significantly outperform legacy lead-acid batteries with more than double the power in the same physical space, 100% depth of discharge, 5x faster charging, up to 10x longer life, all at roughly 1/5 of the weight. Because of Lithium-ion batteries' steady discharge rate, owners will get better performance from thier SolarFlex systems and avoid low voltage errors. Known for its popular Battle Born brand, all Dragonfly Energy batteries purchased as original equipment will include a groundbreaking 10-year warranty, a dedicated technical support number, and an end-of-life return and recycling program. For more information, watch the videos below.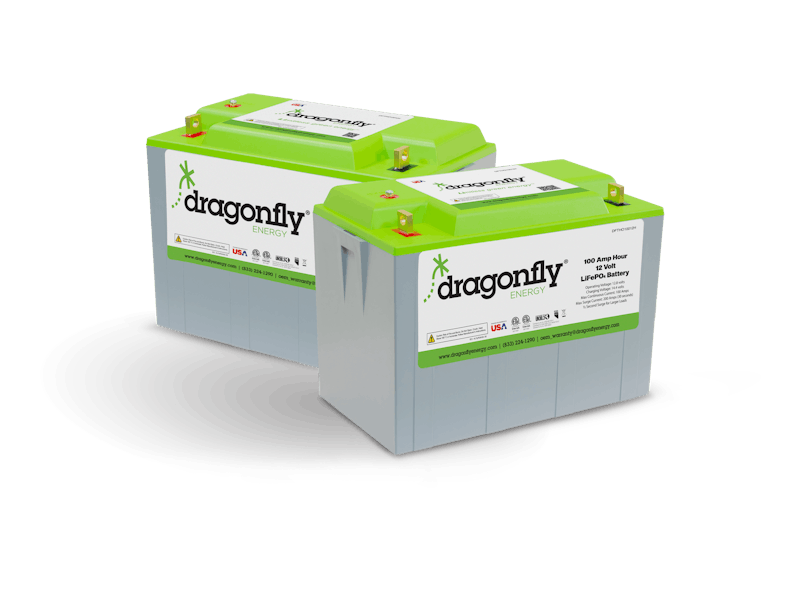 Revolutionizing Green Energy Storage
Dragonfly LiFePO4 low-maintenance batteries weigh 20% as much as comparable lead-acids, are capable of being discharged to 100% of their rated capacity every time, and can be charged 5x faster than lead-acid. Built to last 10 to 15 years and backed by a 10-year warranty, Dragonfly Energy is leading the green energy charge. These 100Ah batteries can be added to any Keystone RV as original equipment or as an after-market purchase. See an authorized Keystone RV dealer for details.
SPECIFICATIONS
100 Amp Hour, 12 Volt Battery.
LiFePO4 chemistry
3000-5000 cycles
Dimensions (L x W x H):" 12.76" x 6.86" x 8.95"
Weight: 31 lbs.
Operating temp range: 4°F (-20°C) to 135°F (57.2°C)
Water resistant and sealed (Batteries should not be submerged)
Designed and assembled in the USA
Built-in BMS (Battery Management System)
BATTERY MANAGEMENT SYSTEM
100 Amps continuous
200 Amps surge for 30 Seconds
0.5 second surge for loads over 200 Amps
High/low voltage protection
Short circuit protection
High/low temperature protection
Cold charging protection
Automatic cell balancing at top of charge
CHARGING PARAMETERS
Absorption voltage: 14.2V to 14.6V
Float voltage: 13.4V to 13.8V
Equalization voltage: 14.4V (if applicable)
Absorption Time: 30 minutes per 100Ah battery bank
No temperature compensation
WARRANTY SUMMARY
Industry-leading 10-year warranty
Backed by world-class customer experience
Dedicated toll-free support for Keystone RV customers
In-house support team located inside our factory in Reno, NV