Hey Nomads, my name is Cortni and I have been a full timer for six years.
I have spent a good portion of my time stationary at RV parks, but I have also done quite a bit of adventuring down random dirt roads. 
We've all seen that classic RV picture.  The one where a rig is sitting next to a picture-perfect body of water, surrounded by flowers that look like they are out of a painting, with a backdrop of snowcapped mountains so beautiful that you think the whole thing has to be fake.
Not only is that picture real, but you are able to have that same experience!  That is the magic of boondocking.  And the best part? It's free!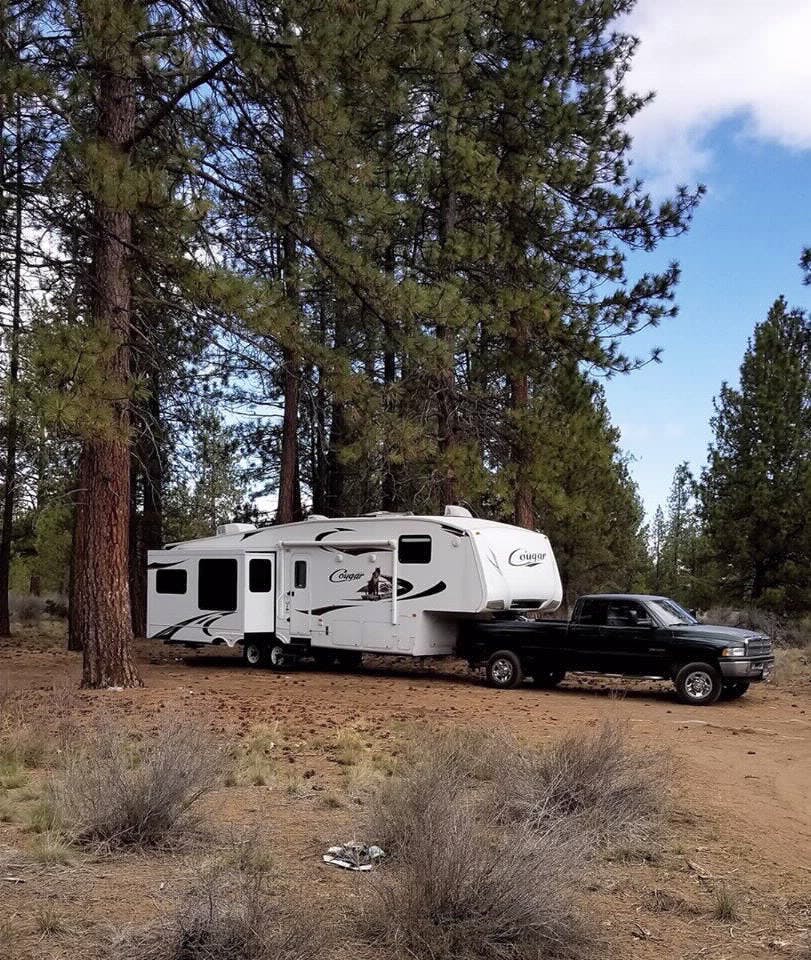 So, what is boondocking?  
Boondocking is using your rig completely off the grid.  You are not plugged into water, sewer or power.  You are reliant on everything contained within your RV.  You are working off of your fresh tank, water pump, and waste tanks.  Your electricity is being provided by your batteries and renewed with solar panels or a generator.  You are parked smack dab in the middle of absolutely nowhere.
You might have also heard it be called "dry camping", which is virtually the same but slightly different.  With dry camping, you are still completely off the grid with no hook-ups, but there is some form of organization or facilities provided.  A great example would be a state park where you don't have any hook-ups, but your spots are designated and there are firepits, picnic tables and showers provided.
What are you going to need to have an enjoyable experience?  
First let's start with power.  You are going to need a way to generate it which is done either with solar or a generator.
If you've never worked with solar, it can be intimidating, but a portable panel is a great way to start. These are also referred to as "suitcases" or "ground deploy." They are just portable solar panels that you set up on the ground. Almost all Keystone RV's produced in recent years have a pre-wired receptacle that portable solar panels plug into, making it super simple to safely charge your battery. If your RV doesn't have this, you can clamp the panel to your battery with jumper cables. That's it. There is no complicated installation of roof-mounted panels or inverters, but the drawback to these are you are limited to only using your 12V system.  You'd have to have an inverter to use your 120V system.
If you opt for a portable panel, you'll want to place it directly facing the sun and move it around several times a day as the sun moves.  Don't forget to place it in the direction of the sunrise before you go to bed so you can capture those early morning rays!
Here is the kind of portable panel I'm talking about. 
After you've gotten comfortable with a ground deploy and want to up your game, the next step would be roof-mounted panels with a bigger battery bank and an inverter.  It starts getting really complicated at this level so you'll have to contact a professional in your area to figure out what you need and to have it installed.  It isn't really a "DIY" project.  Keystone has created some solid turnkey solutions to eliminate the guesswork. Montana just introduced Super SolarFlex™ which I think is the first-ever full solar energy package completely engineered by an RV manufacturer. Montana High Country and Fuzion toy haulers offer a system called SolarFlex; Raptor has partnered with Jaboni to offer a solar power system, and Cougar and Cougar Half-ton have an OTG (off-the-grid) solar energy package available on every model. These options can save you a ton of time and money, and come with the manufacturer's warranty.
If you don't want to mess with solar, you'll need a generator.  What you want to run will determine what size you'll need.  If you just want to keep your batteries up and run a coffee maker or a blow dryer, a 2000 watt generator would be good.  If you're a city slicker and need your air conditioner or microwave, you'll have to get a 3500 watt or bigger.
As a courtesy to others (and so that you don't look like a rookie), please do not use a contractor generator.  These things are very loud! They can be heard at neighboring boondocking spots even if you can't see the spot.  So be courteous of your fellow neighbors and get an inverter generator.
While we're on the subject of appliances and how much electricity they draw, you should know that the furnaces in RVs draw a surprising amount of power.  It can easily kill a battery overnight.  A great alternative is to use a catalytic heater.  This heater is hooked directly into your propane line and runs strictly on propane.  There is no electricity needed.  A traditional furnace needs electricity because of the fan.  Catalytic heaters are far more efficient than furnaces for this reason.  If you have experience with propane fittings, you can install one on your own.  If not, have a shop do it.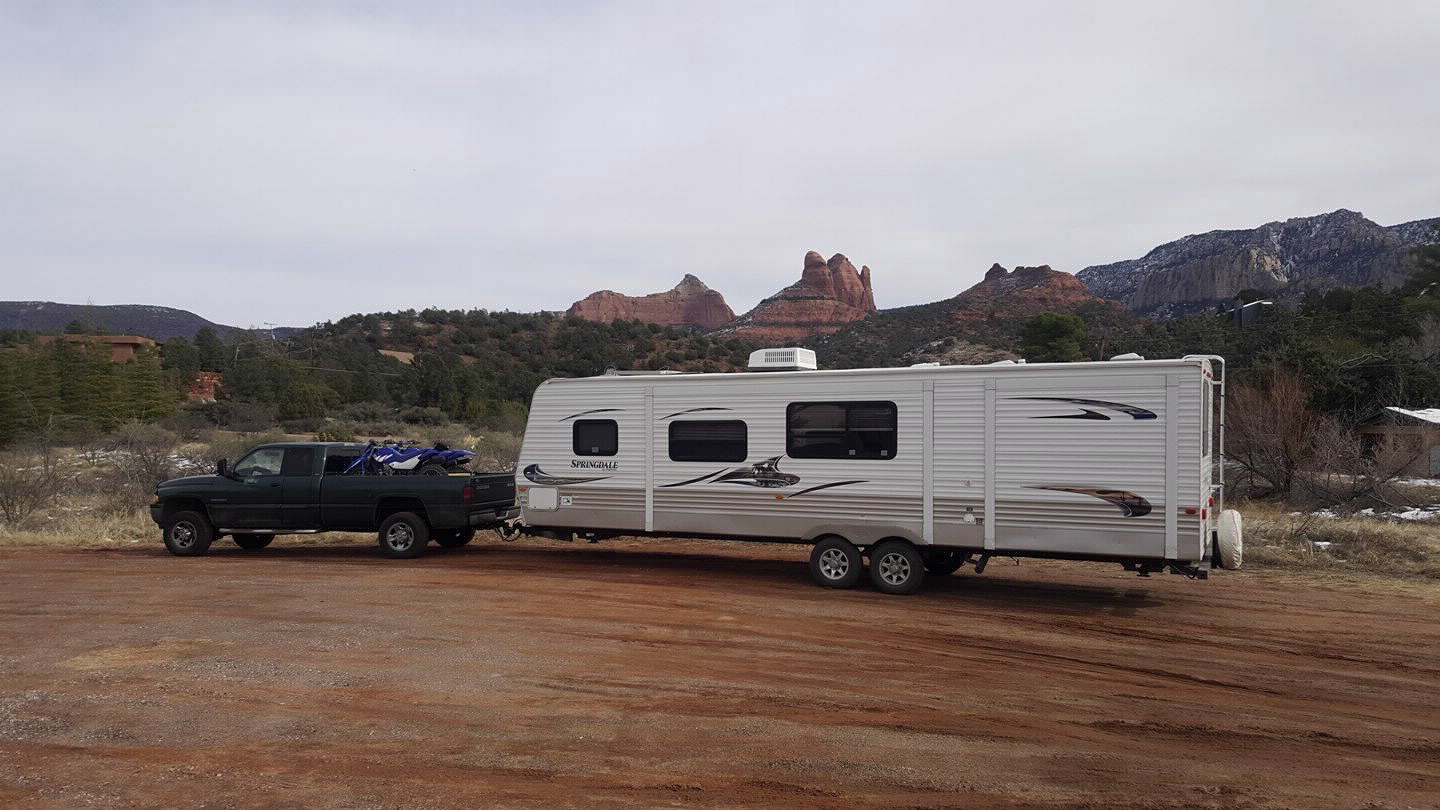 What are other things to consider? 
I always bring my own drinking water.  I have a 5 gallon jug that has a spigot on it.  It just sits on the countertop whenever I'm boondocking.  Please go with reusable containers instead of buying new gallon jugs each time though! But if you have to buy them, save them to refill.   It is really cheap to refill water jugs.  Most grocery store and gas stations have fill stations.  I've seen prices range from $0.10 to $0.50 a gallon.
If you don't want to mess with jugs, you can get a filter for the water from your fresh tank.  You can either get one that you plumb into your fresh water line, or a freestanding one.  If you plan on drinking from your fresh tank, you'll want to sanitize the tank every once in a while.
Let's talk about what realistic water usage is while you're boondocking.  
The cold hard truth is that showers become a luxury and dry shampoo becomes your new best friend.  You will want to do everything you can to conserve your tank water.  It's crazy how fast you can go through it.  Baby wipes will also become a crowd favorite for a sponge baths.
I try to use paper plates to cut down on the number of dishes to wash, but instead of throwing them away, I use them as kindling for the firepit.  Another tank-saving tip is to keep a large bowl in your sink to catch the waste water, then use that bowl to flush the toilet.  Every little bit of conservation helps!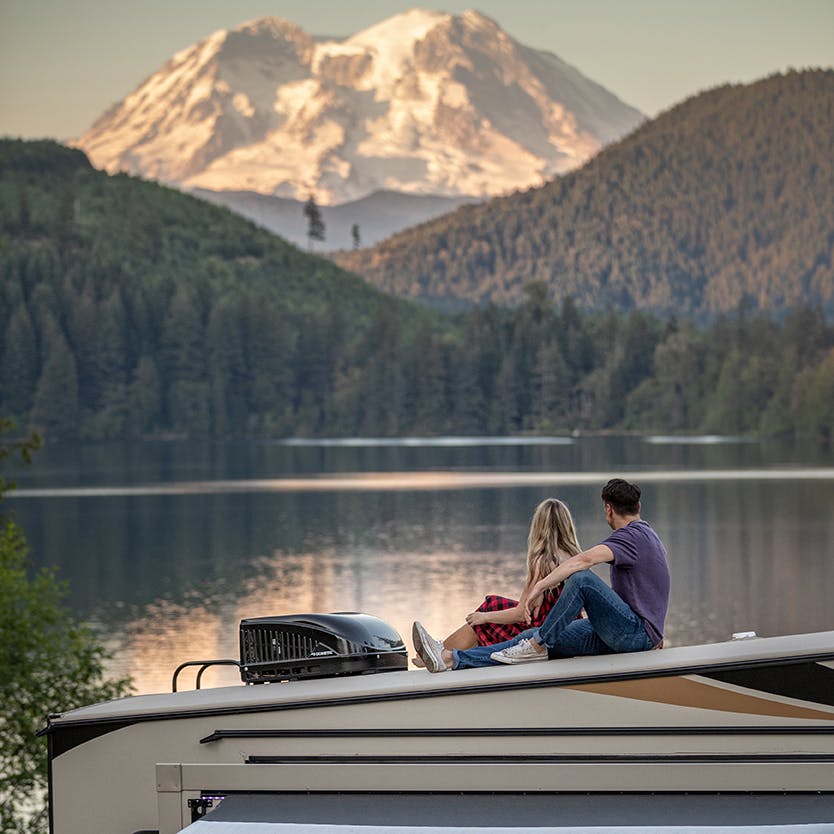 Now that your rig is ready and you know some tricks, how do you find these magical spots?  
The most common way is Campendium.com.  This is a peer-to-peer sharing site where pins are dropped on locations and ranked with an overall rating and a cell signal rating.  People can upload pictures and write descriptions like "Soft dirt which easily turns to mud.  Avoid after a rainstorm".  There are ratings for how tight an area is which is very valuable because if your rig is 40 feet long like mine is, you know how difficult it can be to turn around.
Two other great resources are Harvest Host and Boondockers Welcome.  Both are memberships whereas Campendium.com is free.  Harvest Hosts is a network of wineries, breweries, museums, farms and ranches that allow people to stay on their property.  Boondockers Welcome are private people with land, but usually these people are RVers too so it's a fun way to meet other people in the community.  
There are courtesy regulations for both of these memberships so make sure you read up on the culture of staying with those hosts before you go.
Other honorable mentions that I do not use but have heard of are FreeCampsites.net, iOverlander and Hip Camp.
One rule of thumb to mention is most places have a 14-day limit.  After those fourteen days, you must move a certain number of miles away (usually 28) and stay out for 30 days.
Also, please, please, please be respectful of the land and the people around you. 
Try to leave the area better than you found it.  I always try to pick up trash that is not mine when I stay somewhere.  Also, please be conscious of your noise and letting your dogs run free.  Those are two big pains that seasoned boondockers experience with people who are new to the culture.
Boondocking is a fantastic resource that has provided me with some amazing experiences. It can be overwhelming at first, but just jump in a give it a shot!  Plan a small trip that is only a few days long so you can get a feel for it.  You'll be a pro in no time.