Beginning Fall 2021, all Keystone models will feature the company's all-new SolarFlex packages. Learn more about the new SolarFlex here. Check with your dealer for availability on specific makes and models.
BULLET "OTG" SOLAR/INVERTER PREP (STANDARD)
Roof mounted, dual-port access with solar charger prep located in pass- through storage compartment for roof mounted applications
Sidewall port access for portable solar panel systems
Inverter prep conveniently located in the pass-through storage compartment
110V Outlets on every unit are prepped for inverted use with wiring conveniently terminated in the pass-through compartment for an optional inverter
BULLET "OTG" SOLAR/INVERTER PREP (STANDARD)
1 – 170 watt Zamp roof mounted solar panel (expandable up to 510 watts in the aftermarket)
1 – 30 amp Zamp solar charging system
1 – 1200 watt pure sine inverter
3 inverted outlets inside the trailer (bedroom, kitchen, living room TV)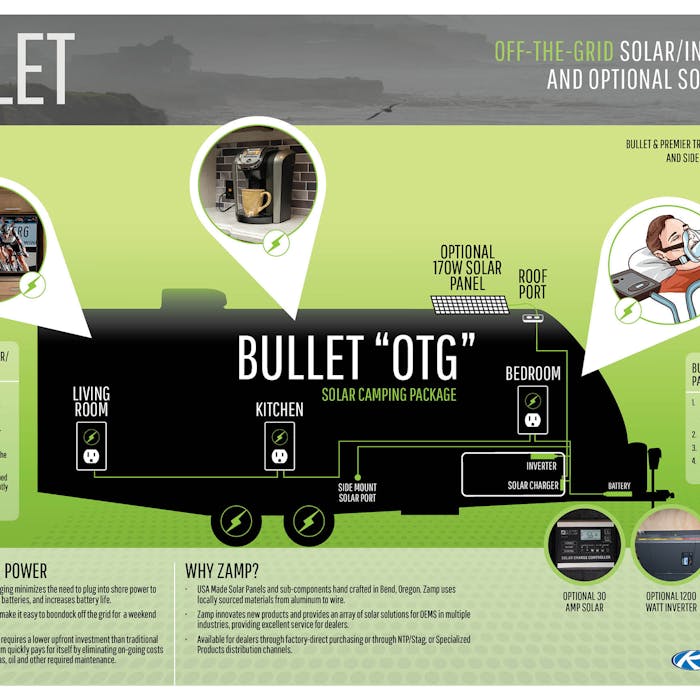 BENEFITS OF SOLAR POWER
No more dead batteries. Solar charging minimizes the need to plug into shore power to recharge batteries, helps maintain batteries, and increases battery life.
Camping Off-the-Grid. Designed to make it easy to boondock off the grid for a weekend or full time.
Solar power is quieter, cleaner and requires a lower upfront investment than traditional RV generators. A solar power system quickly pays for itself by eliminating on-going costs associated with generators, like gas, oil and other required maintenance.
WHY ZAMP?
USA Made Solar Panels and sub-components hand crafted in Bend, Oregon. Zamp uses locally sourced materials from aluminum to wire.
Zamp innovates new products and provides an array of solar solutions for OEMS in multiple industries, providing excellent service for dealers.
Available for dealers through factory-direct purchasing or through NTP/Stag, or Specialized Products distribution channels.
All models are pre-wired for an inverter, roof- or side-mount solar panels, and has outlets prepped for inverted use. Fully kit your solar energy system with the Solar Camping Package option from the factory or the components of your choosing.