MONITOR AND MANAGE YOUR RV FROM YOUR SMARTPHONE
In 2015, Keystone engineers teamed up with ASA Electronics, a leading electronics firm, to create the RV industry's first reliable app-based control system—called iN-Command.® iN-Command successfully eliminated the clutter of switches and buttons replacing them with a clean, easy to use touchpad along with an app that transformed smart phones into a multi-functional remote control. Fast-forward to 2018 and the breakthrough iN-Command system is changing the game once again by incorporating "Global Connect" into the latest generation of iN-Command. This new, smart-home system makes it easy for Keystone owners to control and monitor many of their RV's functions from anywhere in the world using Wi-Fi and cellular data connections. 
HOW IT WORKS
The brains of the system is the Body Control Module (BMC). Commonly located in the pass-through of your Keystone RV, the BMC houses numbered, color-coded wiring and a series of solid-state relays. These relays switch on and off the various electrical components of the RV.
Communicating with the BMC is the Display Commander— a state-of-the-art, wall-mounted touchscreen that can be personalized to your preferences.  Touching a function on the Display Commander sends a signal to the BMC to open or close a circuit.
Virtually all the Display Commander functions can be duplicated on your smart phone or tablet through the iN-Command app (download from the App store or Google Play).
Here's the kicker: Using Wi-Fi and cellular data connections, in-Command with Global Connect gives you the ability to monitor and control many vital functions of your Keystone RV from anywhere in the world.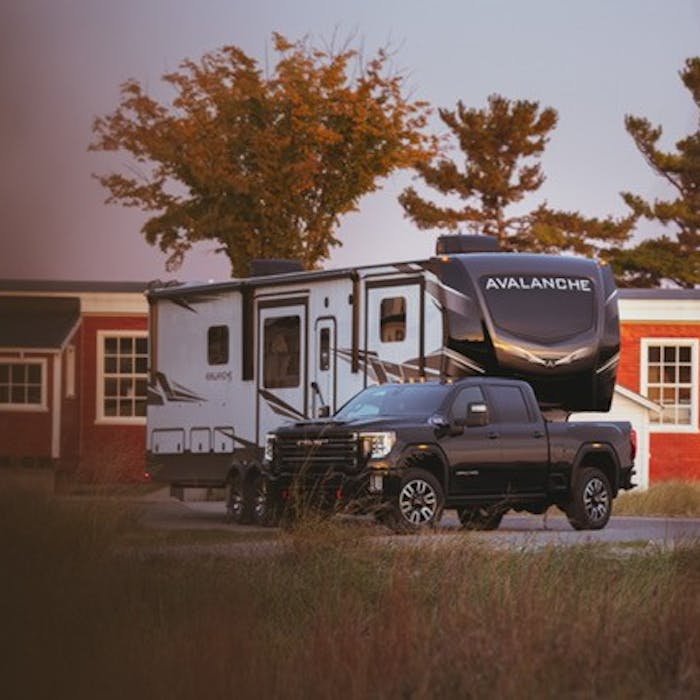 SEEMLESS INTEGRATION WITH GMC AND CHEVROLET'S ON-BOARD SYSTEMS
As of summer 2019, the groundbreaking iN·Command® Control System with Global Connect™ became available in the new lineup of 2020 Chevrolet and GMC pickup trucks and SUVs. For Keystone RV owners with compatible systems, this means you will not only have the convenience of iN·Command on your smartphone, but you will soon be able to monitor and control your rig's controls from the dash of your truck.
The new implementation of iN·Command offers an additional and phone-free way to access to tank and battery levels, lights, water, HVAC, generator functions and more while on the road–the system also sends alerts should there be any RV system errors or components that need attention. Off the road, RV functions can be accessed anywhere in the world with a Wi-Fi enabled smartphone from the myChevrolet or the myGMC app.
in-Command is now available on Keystone's Alpine, Cougar, Fuzion & Raptor product lines.