Exclusively from the Keystone Innovation Lab
Keystone RV's Giggy Box consolidates 12V wiring into a single connection with an optional battery disconnect. Available on most Keystone A-frame travel trailers and fifth wheels manufactured after 2021.
What's inside the Giggy Box 12V power distribution center?
7-way bargeman cord connections with distribution block, color-coded to SAE standards
battery disconnect available as standard equipment or as an aftermarket option on some models
automotive-grade, auto-resettable fuses (better known as mini breakers)
inline fuse connections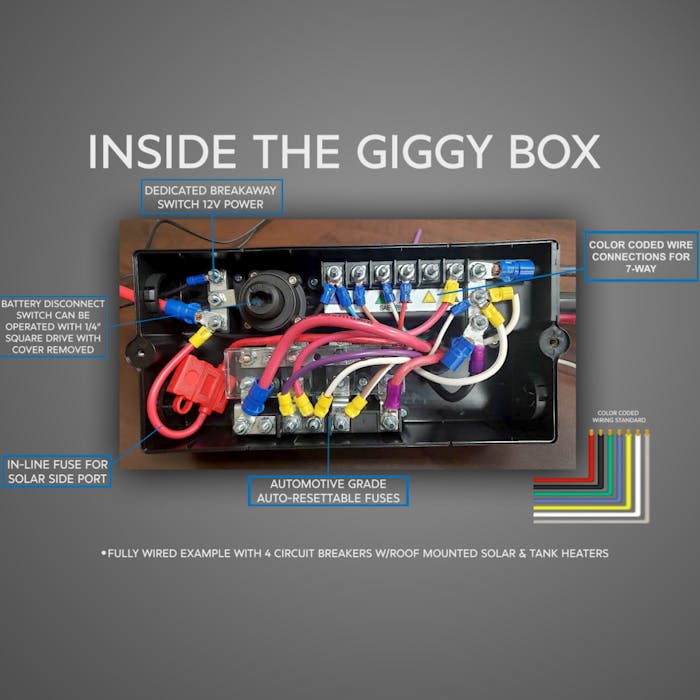 Based on customer input, Keystone Innovation Lab's Giggy Box was developed to organize and centralize an RV's 12V wiring connections. When appropriately equipped, it also allows owners turn off all 12V power to the RV—eliminating parasitic draw that can cause dead batteries. While the battery disconnect cuts power to 12V components, it maintains power to the breakaway switch for safety. If the RV has a solar power system, the batteries will still be charged when the disconnect is in the OFF position.
Designed to make it easy for owners to service, the back of the Giggy Box lid features an easy-to-read diagram identifying every item and circuit. Components, including a 7-way bargeman cord, auto-resettable fuses, and battery disconnect, can be easily removed, serviced and/or replaced. Please use caution when working on your RV. If at anytime you feel uncomfortable with any RV repair, stop what you're doing and contact a service professional.
Giggy Box advantages:
provides weather-resistant housing for 12V connections
reduces number of battery connections
reduces components that are mounted to the drawbar and streamlines wiring
offers a dedicated breakaway post for continous power for the breakaway switch
allows trickle-charging via solar power
well-labeled, removable components for easy servicing
If your RV's Giggy Box did not come with the battery disconnect, you can add it. Simply contact your local authorized dealer or service center.
For more information about Keystone RV's Giggy Box, watch the video below.