Meet Keystone's Brand Ambassadors and how they Camp Better™.
Let us introduce our Brand Ambassadors. Keystone partners with real RVers that embody and define what it means to Camp Better with their experiences and adventures.
Community—Sharing stories, helping others by educating them on how their RV works, providing resources, teaching them how to make repairs, and welcoming others into the RV lifestyle.
Kindness—Becoming family and friends to everyone they meet, pulling together and helping others, being genuine and humble, generous of time and resources, and considerate of people, animals, and the environment.
Environment—Leaving Planet Earth better than you found it, treasuring the beautiful scenery, innovation to conserve resources, preserving and conserving, guarding and protecting the land.
Camp Better is a passion, looking through the eyes of owners that understand who and what Keystone RV represents. Follow these families as they share their tips, tricks, and journeys in their Keystone RVs. Be sure to follow @KeystoneRV on Facebook and Instagram!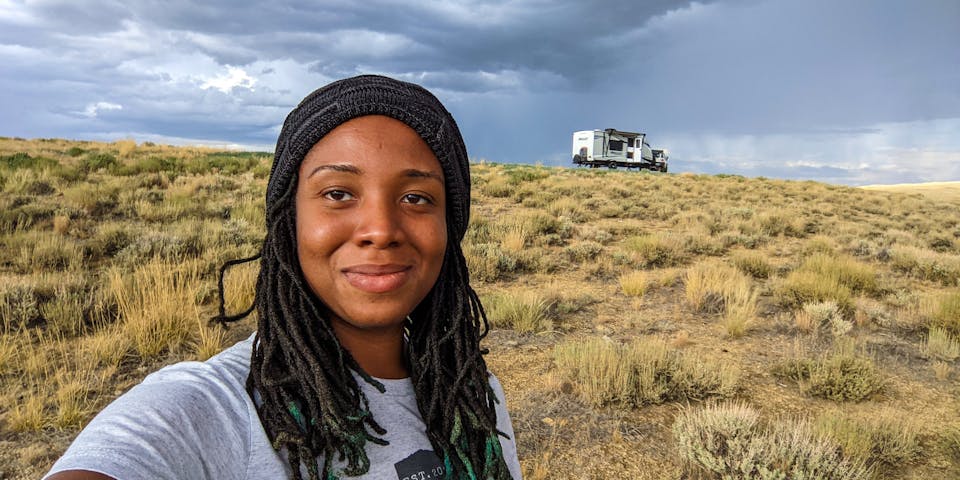 Alexis Chateau
Originally from Jamaica, Alexis fell in love with the Southwest deserts and began traveling solo with her cat Shadow in 2020. Alexis is redefining the traditional American dream for a life of freedom and travel. Sharing information on her Bullet 1800RB, towing vehicles and camping gear is a passion. Showcasing the accessibility to the outdoors follow Alexis on Instagram and YouTube.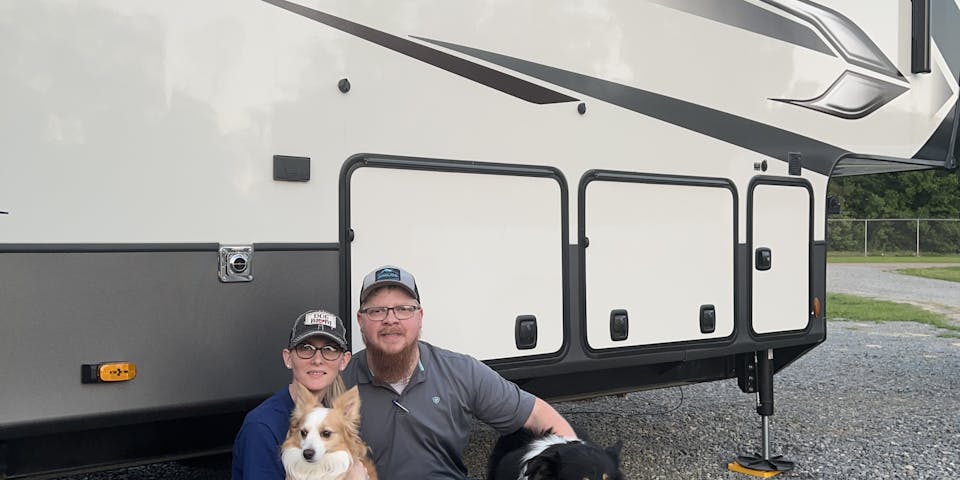 That Traveling Wife
Originally from Arkansas, Casey and Josh have been RVing for over 8 years.  With Josh's career taking him on the road as a Mechanical Field Engineer, Casey became That Traveling Wife, sharing stories on the road.  RVing created the perfect homey feel while moving from one location to another, staying anywhere from one week to 5 months.  This lifestyle allows them to travel together, and experience new adventures while watching and enjoying their fur babies, Blue and Bo from their Alpine 3910RK. Follow them TikTok and Instagram.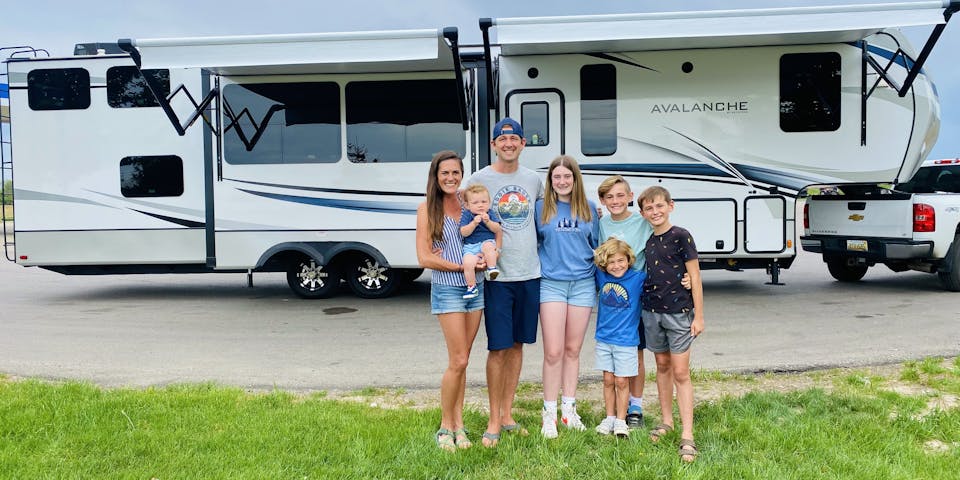 Our Barefoot Travel
As a family of 7, Andrea and Tab decided to give their family the experiences of a lifetime.  After feeling trapped in the rat race and watching their children grow up quickly, they decided to sell almost everything and travel full-time in their Avalanche 390DS.    In 2020, they began sharing their stories on the road, so other large families would know they too can do this.  Sharing unlimited adventures and time with their 5 children is something they will never regret.  This lifestyle isn't easy but it is always worth it. Follow them on Instagram.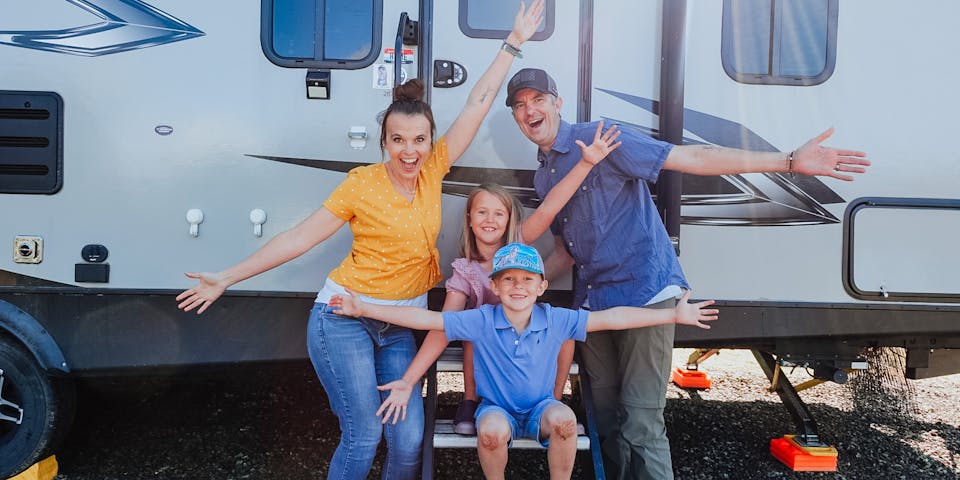 Us and the Mutts
Sharing their love of exploring, Chad and Lindsey have been traveling full-time with their 2 kiddos and fur babies Ollie and Tucker for over 2 years now. They are not new to this lifestyle as they have been RVing for over 8 years enjoying the freedom of RV life and showing their kids the world. Learning to roll in their Bullet 287QB, they go with the punches of weather, changed plans, and desire changes. Not sweating the little stuff, they know that once they get to their next destination, it is all worth it! Follow them on Instagram.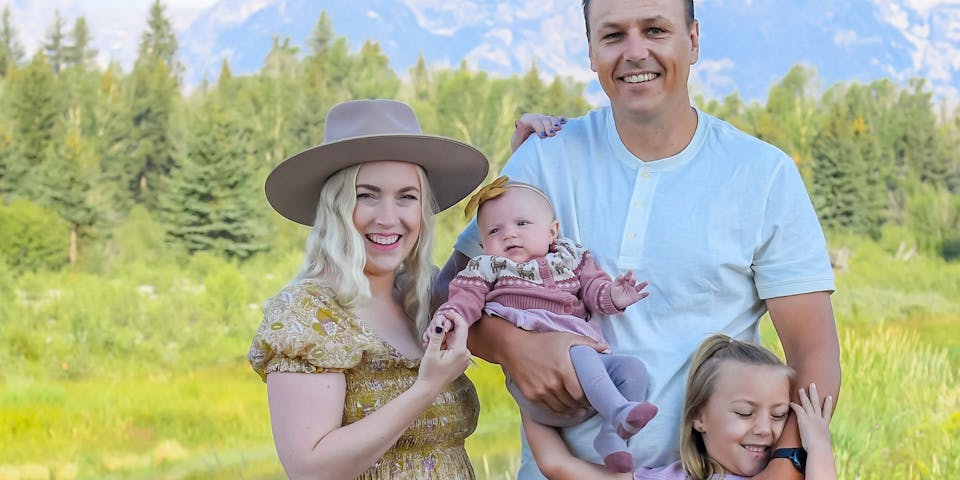 Haus Von Floof
Living and working in Texas, Sarah and Steffen take full advantage of their weekends and vacation time. They travel with their daughters, Sophie and Sienna to experience all things outdoors and explore new destinations. They began renting RVs and then decided to purchase their own as a more convenient way to travel with younger children. Falling in love with exploring the country they have never looked back. With all the amenities of a home, they enjoy their Carbon 358. Follow on YouTube, Instagram, and TikTok.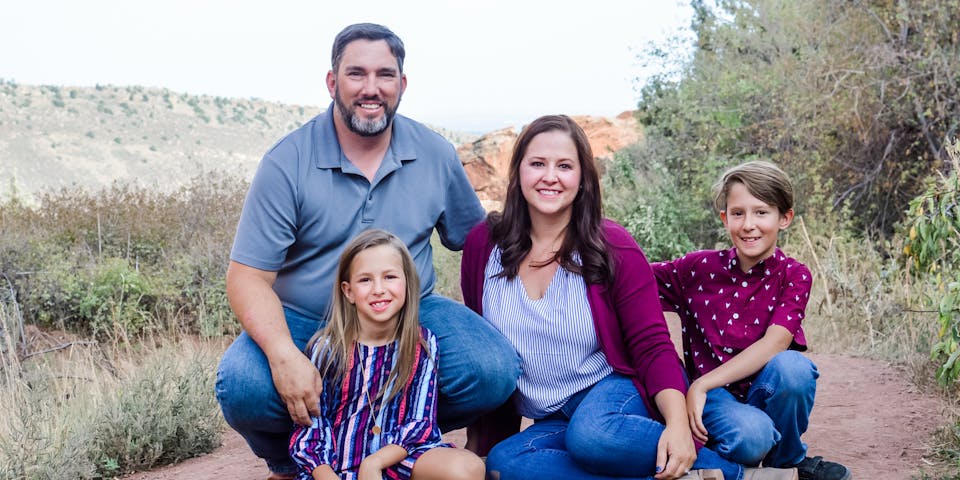 Exploring Outside the 303
Growing up camping, Kaylee and Steven shared their love with their children Jeremiah and Addy, and their pooch, Diesel. They have been traveling full-time for over 3 years now upgrading to their Cougar 368MBI from the original popup trailer. Getting away, enjoying the outdoors, and the intentional time together without any distractions is the once-in-a-lifetime experience they are sharing with others, daily! Come explore with them on Facebook, YouTube, Instagram, TikTok, and more.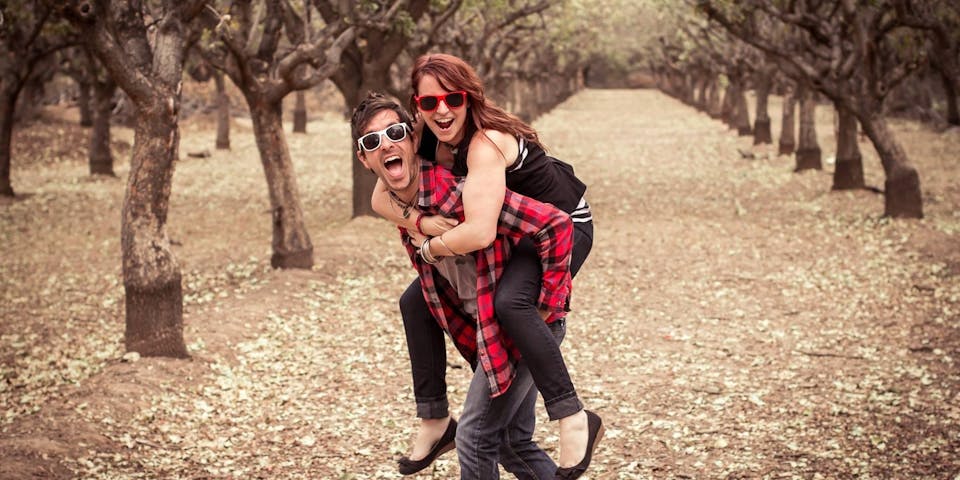 Our Not So Perfect Life
Jason and Dellynn have been living the full-time RV lifestyle since 2020. While the majority of their children are up and out of the nest, they experience as much as they can with our two youngest guys and an incredibly lovable dog, Lily. Like so many others, they know life is not perfect, they set out to document everything from the good to the bad, and even the ugly. Preserving memories, they wanted to tell a "not-so-perfect story" that many can relate to, all while inspiring others to go out and begin to make their everyday life beautiful. Follow on YouTube. They will make you smile and laugh!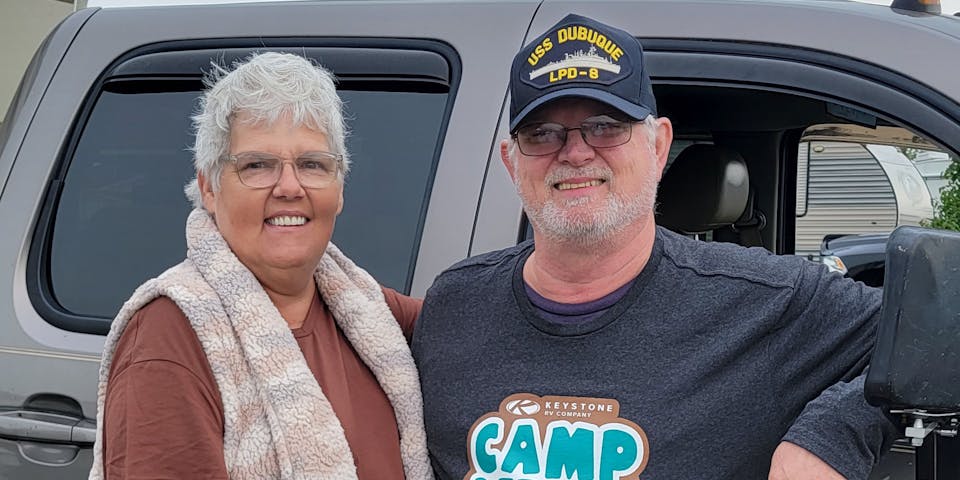 Jack and Cheryl
Weekend warriors Jack and Cheryl have been enjoying the RV lifestyle for well over 15 years. They have upgraded throughout the years and are on their 5th recreational vehicle, beginning from a popup to a Cougar 327RES currently. They love meeting new people, sharing experiences and inviting campers to come check out their cozy camper. Jack and Cheryl's love is seen in everything they do, follow them on Facebook @ Kilroy's Keystone RV Adventures.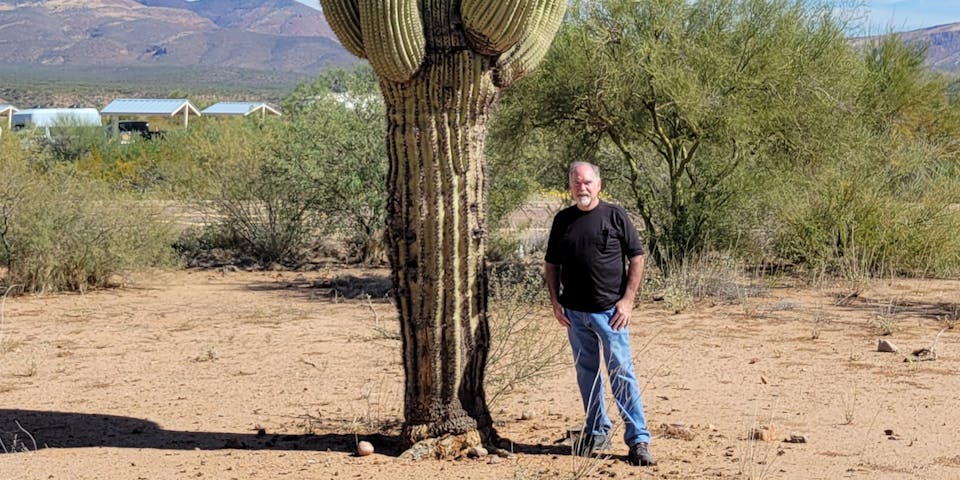 Steve
As a solo traveler with 2 Norwegian Forest cats, Steve enjoys helping others. He has owned his Cougar 315RLS since 2019. He is a great representation of what Camp Better means. In his own words, "Camp Better means responsibility to ourselves, our environment, and our neighbors. Showing respect for each other, having a great community, and resources, and offering knowledge to one another all the while having fun, staying active, and enjoying the great outdoors." Join us as we follow Steve's adventures.
Faith Hope Home
How can you find a driver, RV tech, schoolteacher, content creator, interior decorator, navigator, and chaos coordinator? Look for a Fuzion 373, and you will find Matt and Rachel! Traveling full-time with their girls, Sadie and Savannah, and rescue pup Mishka, you can find them out on adventures searching for their next homestead. Looking to experience the outdoors back in 2020 with the girls, they started as weekend warriors and then after a year decided it was time to make changes and embrace the full-time RV lifestyle. They are taking full advantage of websites and memberships to locate really unique camping experiences. Follow on Instagram, YouTube, TikTok, and more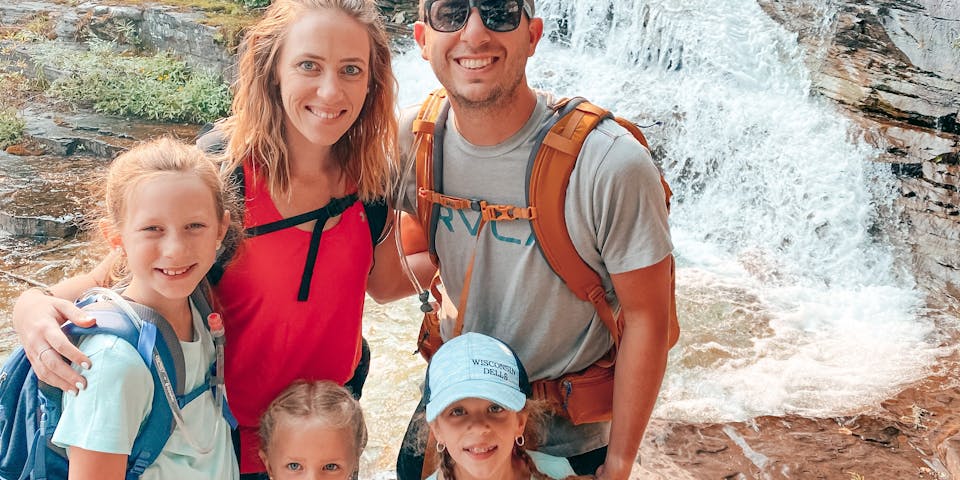 Peeples and Places
Originally from Ohio, Rob, Ashley, 3 daughters, and Paco the chihuahua decided to take a 2 month-long trip in Class A, towards the end of the trip they made the decision to NOT go home! 14 months later, you can find them full-time in their Avalanche 378BH as they transition from their Fuzion 429. They love meeting other traveling families and are making the most amazing memories with their girls! Rob may even share his hibachi recipe with you! Follow them on Instagram, TikTok, YouTube, and more.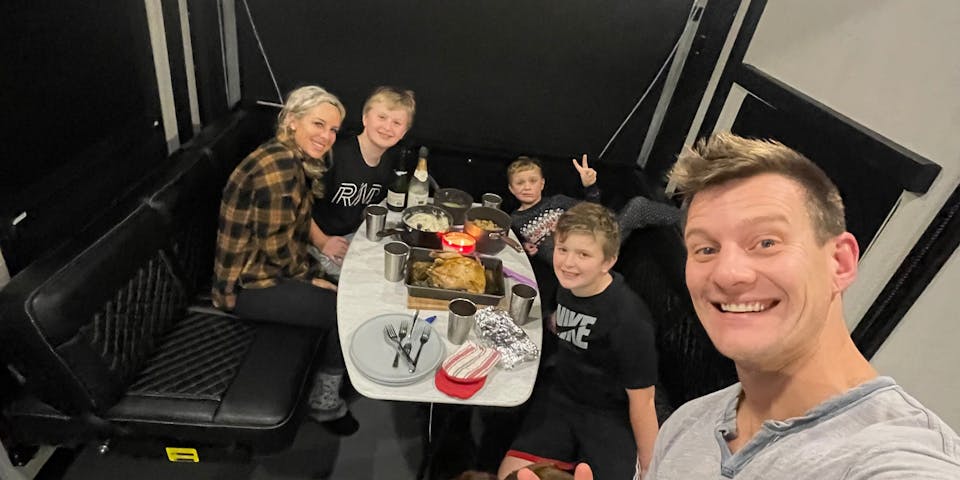 Ryan and Amanda
Living in Washington, Ryan and Amanda are entrepreneurs by nature! From touring and creating their own t-shirts, to helping others do the same. Between education and sustainable initiatives, they continue to share their passions with their 3 lively boys and 3 lively dogs. Spending more time working remotely and traveling with family allows them to get out and explore the "open" areas of the world. After touring with companies Allmade, ROQ Us, and MadeLab.com, Ryan and Amanda upgraded to their Impact to get off the grid, experiencing the freedom to go anywhere. Follow them on Instagram.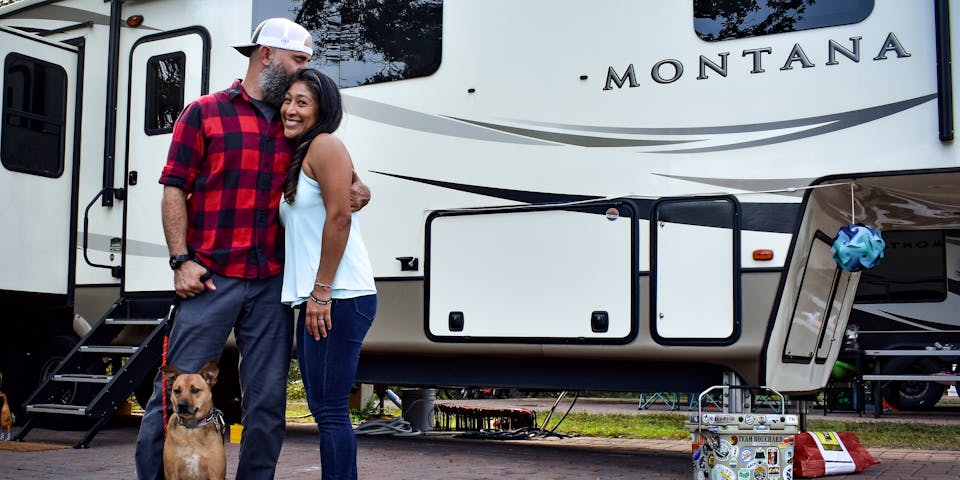 2 Veterans on the Move
Retired Air Force veterans with combined 42 years of service, let us introduce you to Bob and Grace! Growing up in different states on the opposite ends of the state spectrums — southern California to upstate New York, they have been together traveling in their Montana for over 3 years. Not sure where to call home, they followed their passion for travel. After watching a commercial of a dog running down the steps of an RV they were hooked! Bob and Grace continue to give back to others, they volunteer within the communities they visit, from local veteran organizations to local animal rescues. You may see them out walking dogs several times a week! Follow on Instagram and Facebook.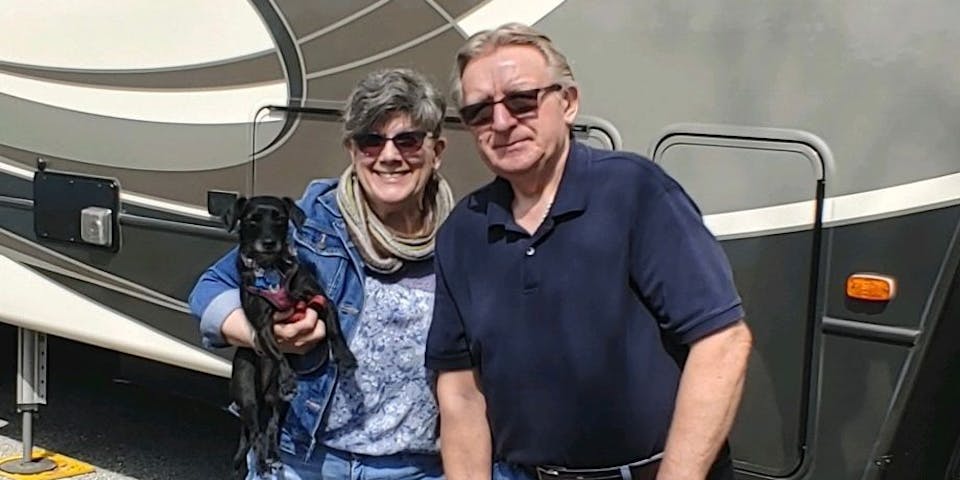 My Camping with Views
Long-time campers Richard, Marilyn, Dusty, and Gabby Girl go everywhere they can together in their Montana. They have had several RVs since beginning back in 2007. They collect memories and stories and love to share them with others, you may even be lucky enough to share Marilyn's famous Crockpot Apple Pie! Come, sit a spell and reminisce with My Camping with Views on Instagram, you will have new friends for life.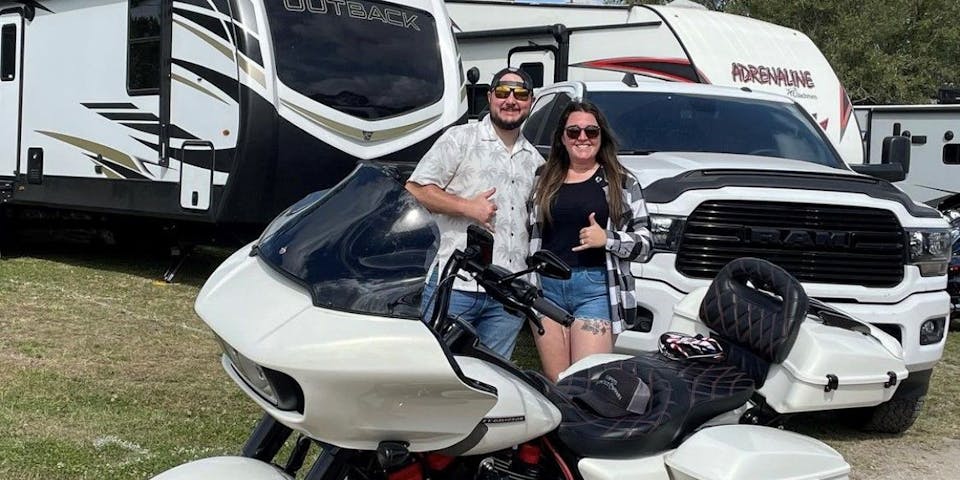 Get Larson Lost
Get lost on adventures with Josh, Hannah, and Toby. Together for over 10 years, enjoying adventures every step of the way, they started simple and grew the more they explored. From hotels to tents to a full-blown house on wheels, they travel everywhere in their Outback. Nomads at heart, when they see an opportunity for a new adventure they jump at the opportunity. Motorcycles have been a huge part of their life and the trips they have taken. This year they decided to leave it all behind, and Hannah became a traveling nurse. They sold everything they didn't need and hit the road full-time. Exploring every state and seeing what this great country has to offer you can follow Get Larson Lost on YouTube and Instagram.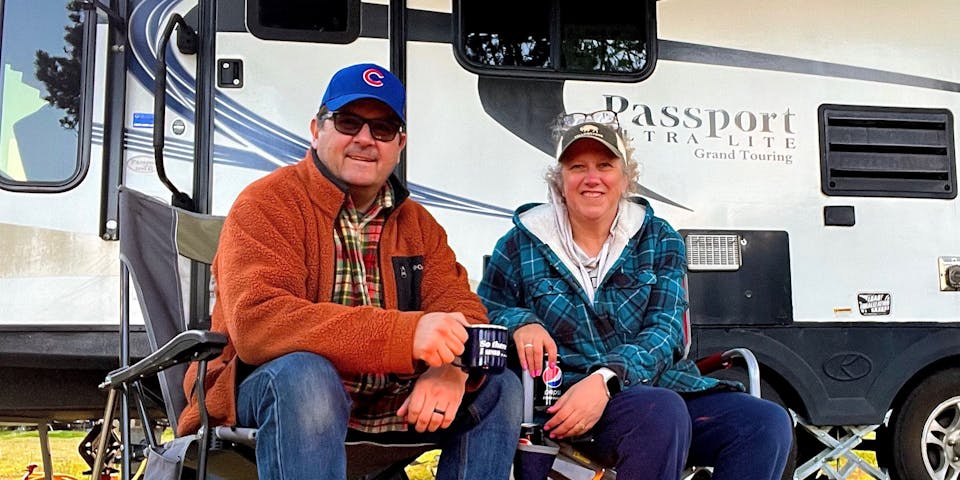 Happy Place Diaries
Residing in Oregon, Jerry and Teresa like to enjoy their weekends exploring the Gateway to the Gorge and anything that involves RVing. They had been camping in tents prior to upgrading to an RV. After dealing with Mother Nature, the decision was pretty easy to make and transition into their Passport Travel Trailer, and now their Montana 3761FL. As an Army Veteran and someone who works with children in schools, Jerry and Teresa have a passion to help others, using their YouTube channel to raise money for Veteran activities across several communities. Being loved by everyone, just like their Shepherd's Pie, they help to encourage there is no right way to RV, but there are definitely wrong ways. Follow on YouTube as they prepare for the next weekend adventure.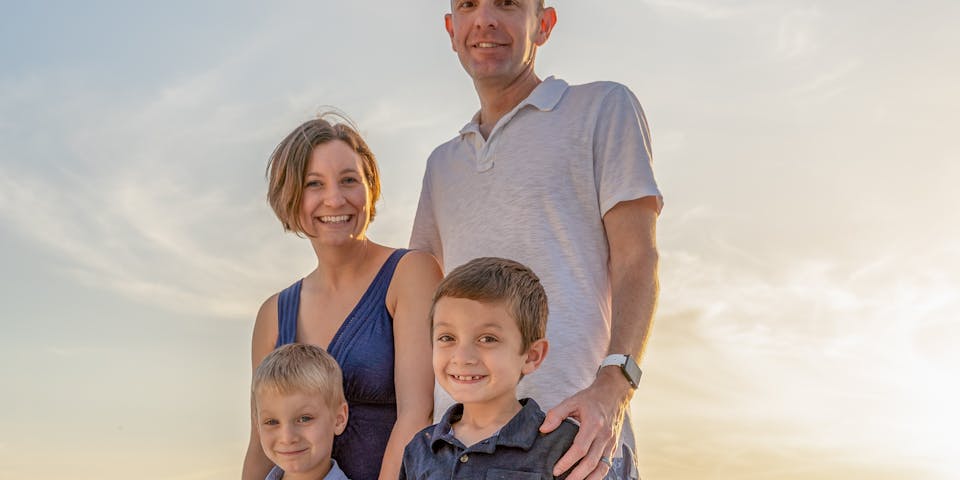 Adventures by Drennon
Looking for adventures, this weekend warrior family takes every chance they can to travel and discover all there is in Florida. Upgrading from tent camping, they now enjoy their Passport Travel Trailer. The love of their communities is a driving force of how they when found RVing, getting to know others, helping in any way they can and enjoying time to laugh and explore. We hope you get a chance to meet Adventures by Drennon, but in the meantime follow them on Instagram.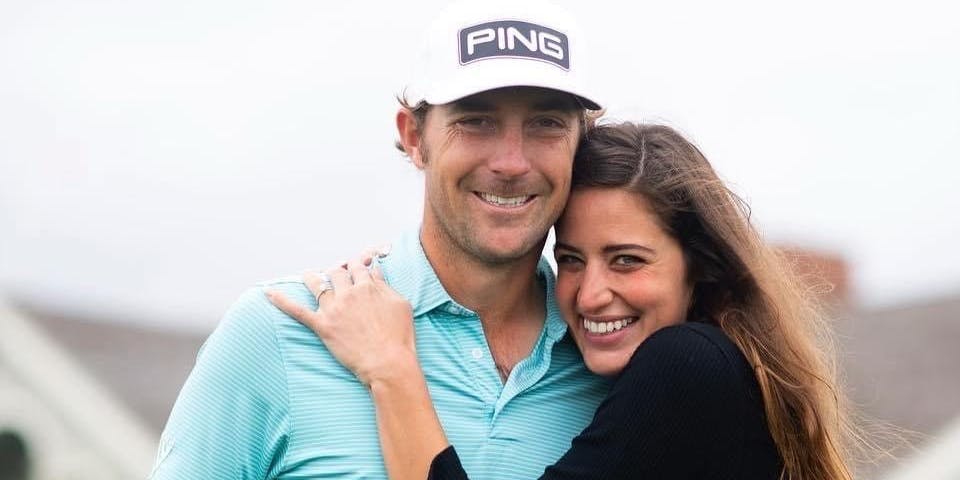 Kyle and Ali
Recently engaged, Kyle and Ali are making big plans for the year. After RVing for the last 8 months, between teaching Kindergarten and traveling with the PGA tour, they spend roughly 30 weeks on the road in their Premier. The fur babies, Looper and Piper enjoy the comfort of home away from home instead of staying in hotels and dealing with the never-ending surprises of travel. Follow them on Instagram as they travel to new destinations and continue to plan for their big day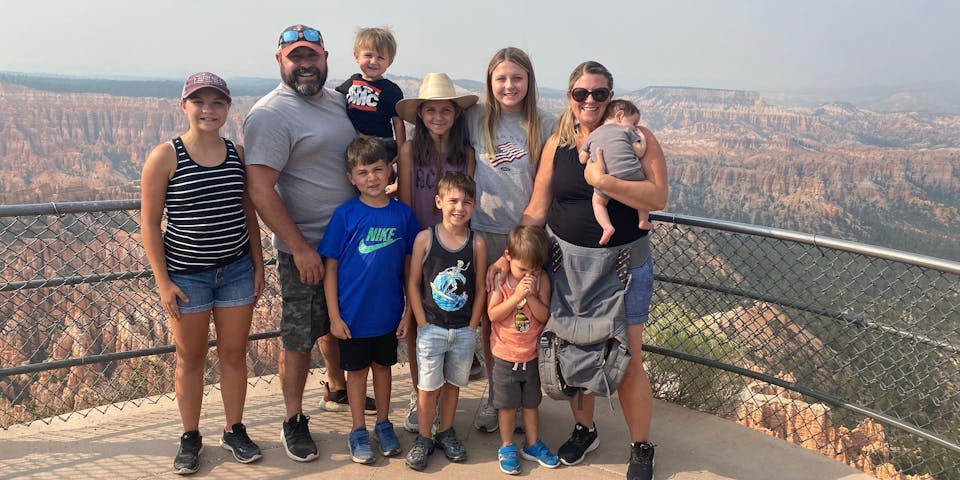 Our Tribe of 10
Traveling with 10 is possible, Megan and Gordy show us how they enjoy time with their 8 children. Camping was not something they thought about until 2020 when they wanted to get out and see things. Making the choice on a whim to purchase their Premier Travel Trailer, they love camping with their children on the weekends. Think you can't do RVing, well think again. As Our Tribe of 10 shows that anything is possible, follow them on Instagram as this family enjoys new adventures.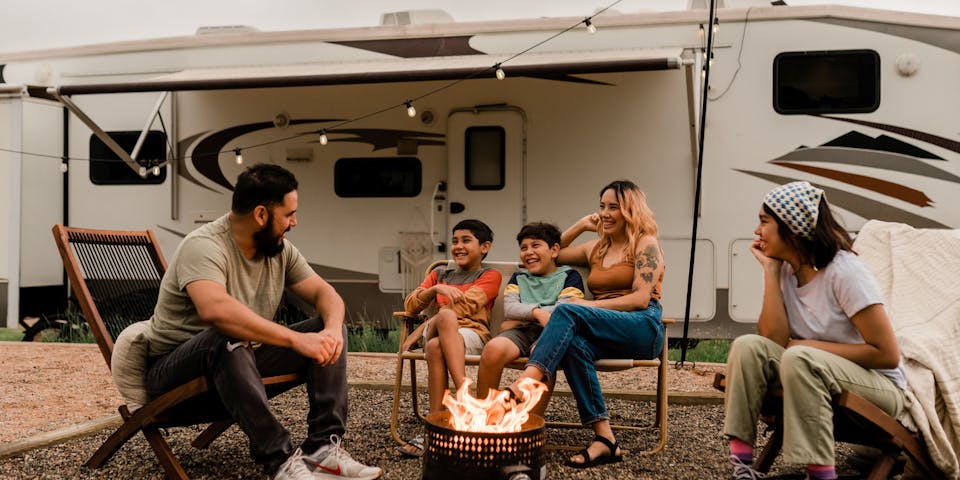 Living La Vida Wild
Trading in a traditional life for one full of adventures, Omaury, Jenny, Giselle, Elias, and Mateo are passionate about exploring the outdoors, visiting new places, and making friends on the open road in their Raptor. They began as weekend travelers but soon craved more adventure. They have been living this lifestyle for over 5 years and are loving it! They lead by example by leaving it better than you found it, slow down, and travel with this exciting family. Follow Living La Vida Wild on Instagram and Facebook as they continue to make an impact on nature.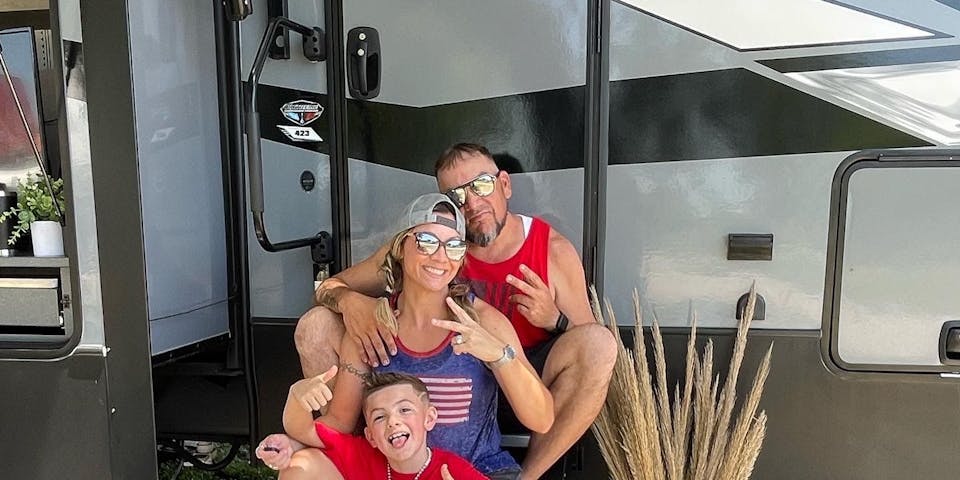 Destn8tion
After moving from state to state working on new manufacturing facilities, Nathan, Desiree, and Maxton decided to take the leap into full-time RVing. This lifestyle has allowed them more time to spend with each other and treasure the time they would have lost packing, unpacking and trying to find a new home every 6-12 months. This family shares their experiences and stories with others, helping to overcome the fear of this lifestyle, as well as sharing things with new neighbors. Follow Destn8tion on Instagram as they share many adventures in their Raptor.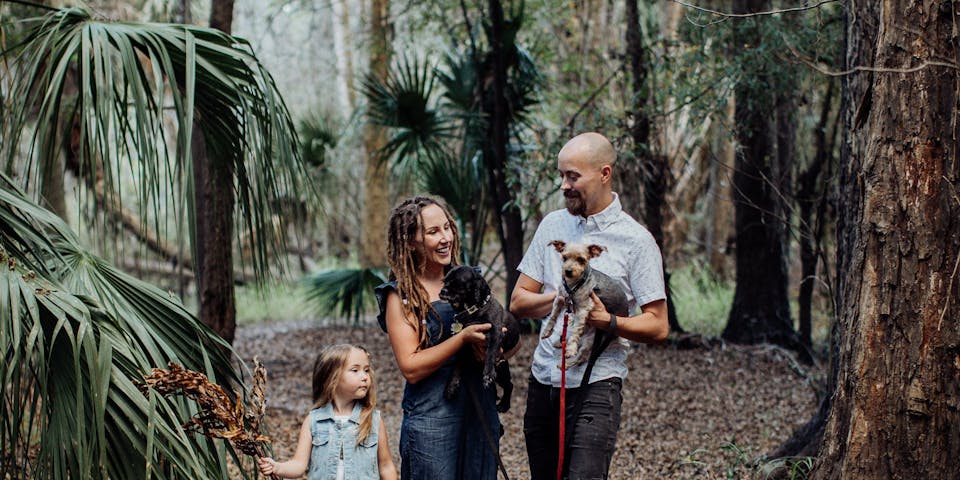 Llama Llama Adventure
Choosing the RV lifestyle has been something this family wished they would have done sooner. Moving into their Sprinter in 2019 and full-time-traveling in 2020, Trevor and Lia are discovering new ways to experience life with their daughter Lennon and pooches Banaba Pig and Mango Salsa. Adventure is a MUST for this family, as they enjoy hiking, finding new breweries, and cooking with new flavors. Journey with LlamaLlamaAdventure on Instagram to see where they may be now.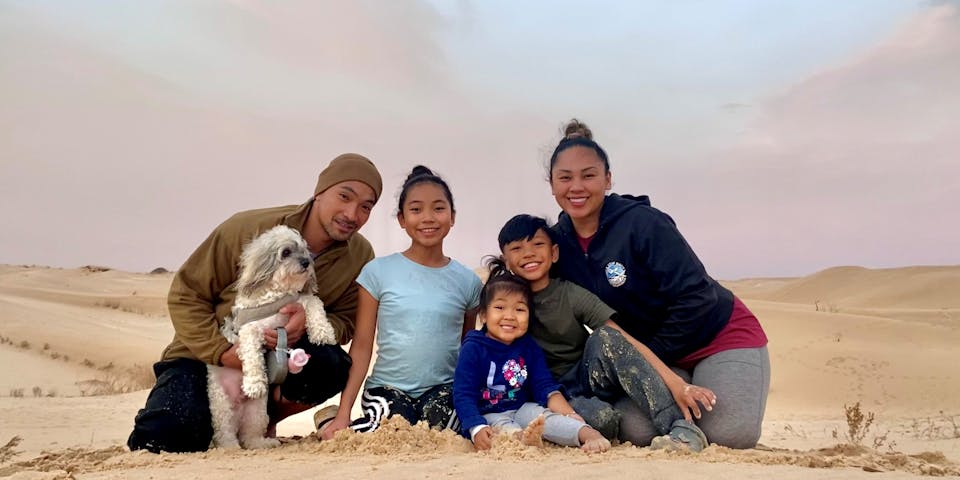 Tiny Tenorios
As an active Military family, Jaedene and Resty travel every chance they get with their family. As living full-time in a Sprinter for over 2 years, they haven't looked back. Military life doesn't allow a family time to call one place home for too long, so they decided to do something "crazy" and buy an RV. Jaedene and Resty feel this has been one of the best decisions ever made for their family. They have done more traveling and have seen more places in the last two years than they could have ever imagined. Follow Tiny Tenorios on Instagram as they share their adventures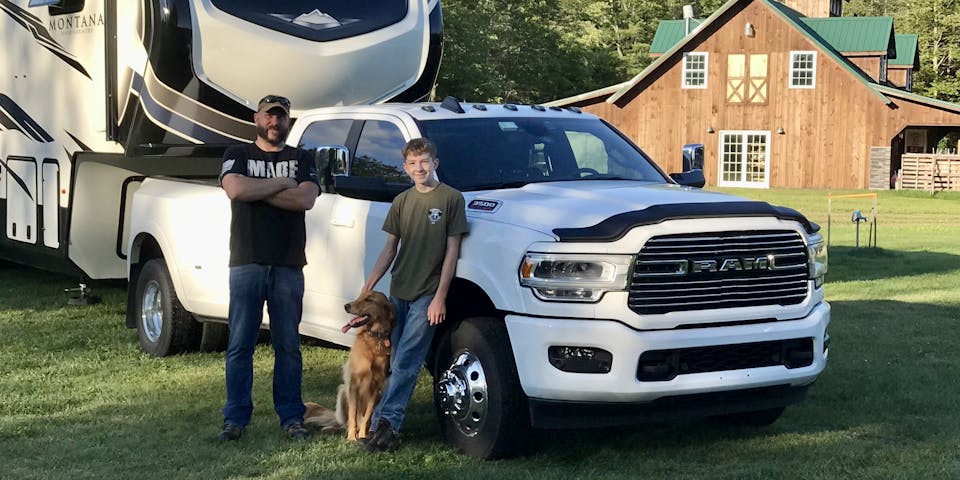 On Liberty With The RV
Dave and Danny have been full-time RV living for 13 months. With their love of learning, they have traveled from Savannah, GA all the way up the east coast to Maine visiting National Parks, State Parks, museums, and much more! They love to share their experiences with others in hopes that more families will turn off the TV and make lasting memories of seeing and enjoying this great country. Follow them on YouTube and Facebook as they continue to boondock with all of their solar upgrades!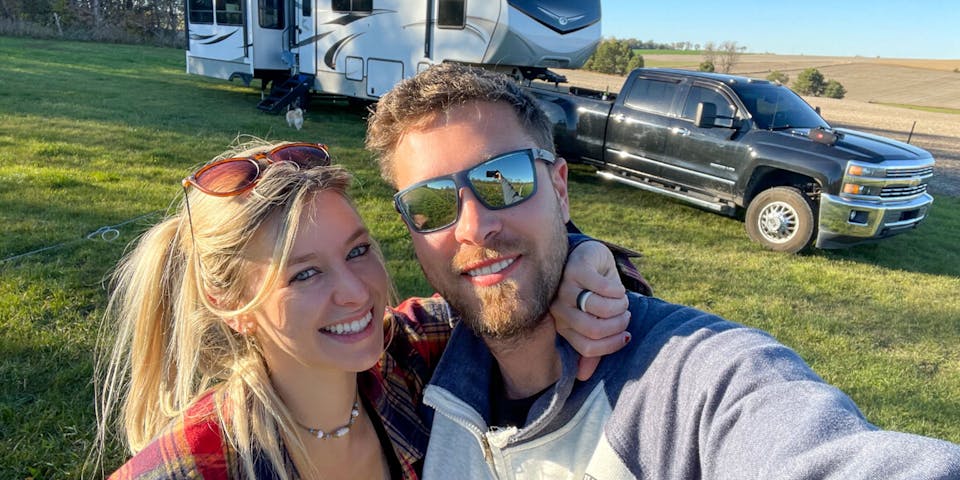 RV Happy Yet
Making the bold move to leave their corporate jobs in south Florida for a more meaningful life full of travel and adventure, is the best way for you to get to know Caleb and Jennifer. They travel full-time with Rambo and Stella in their Cougar. Living life to the fullest, they have traveled across North America and boondocked in some of the most fascinating and beautiful "secret" spots! Follow RV Happy Yet on Instagram, TikTok, Facebook and more, as they journey to the unknown.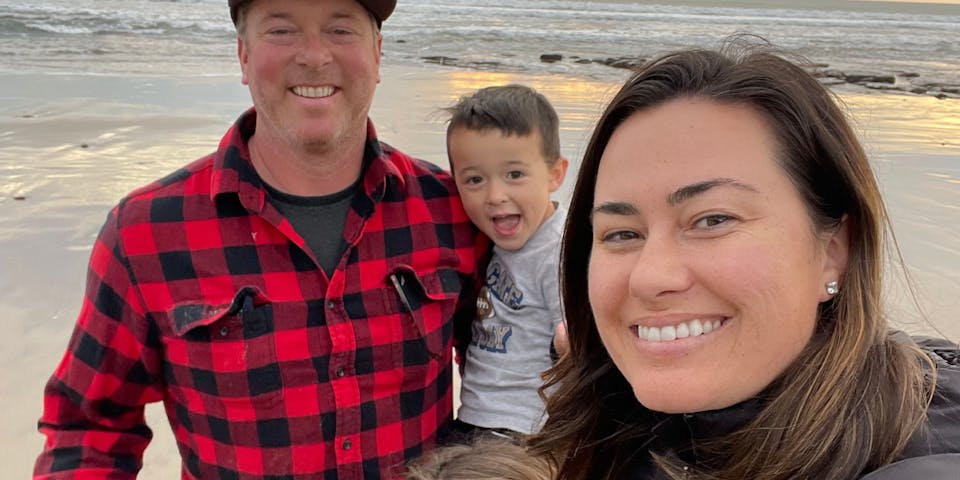 Mountains To The Sea
Originally from California, Asher and Melissa embrace the full-time RV lifestyle with their children Isla and Colt, and their tiny Yorkie Coral! They are so thankful for the opportunity to travel together and share experiences and memories with others. They recently upgraded from a Hideout to a Montana High Country 385BR with the mindset of focusing on their family and making the most of their travel experiences. Follow Mountains To The Sea RV on Instagram.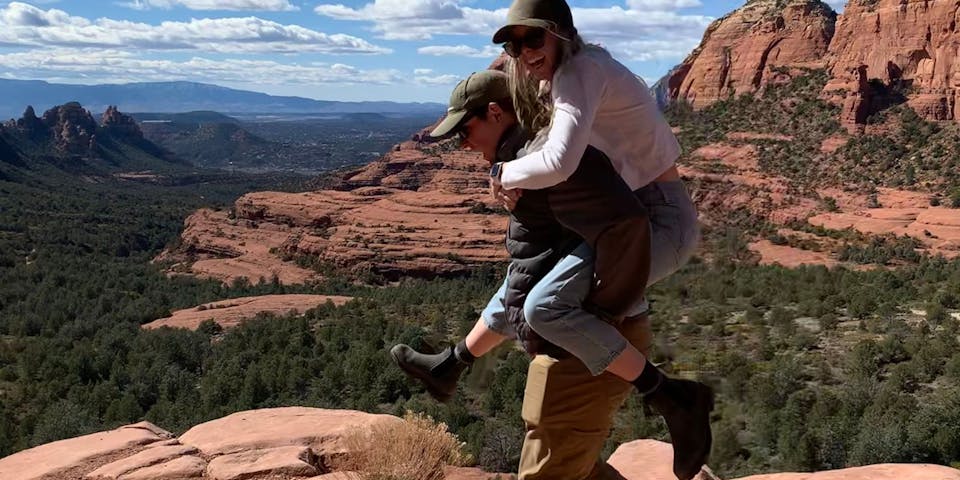 Hitched and Halling
Adventure is where you can find these two between their careers as a traveling nurse and a data analyst. They enjoy spending time outdoors hiking in the summer, snow skiing in the winter, golfing around the clock and finding new destinations. They have been full-time living in a Montana, with their two cats that enjoy RVing just as much. This summer follow Katherine and Mason as they introduce their expected baby to the RV lifestyle. You can find them on Instagram.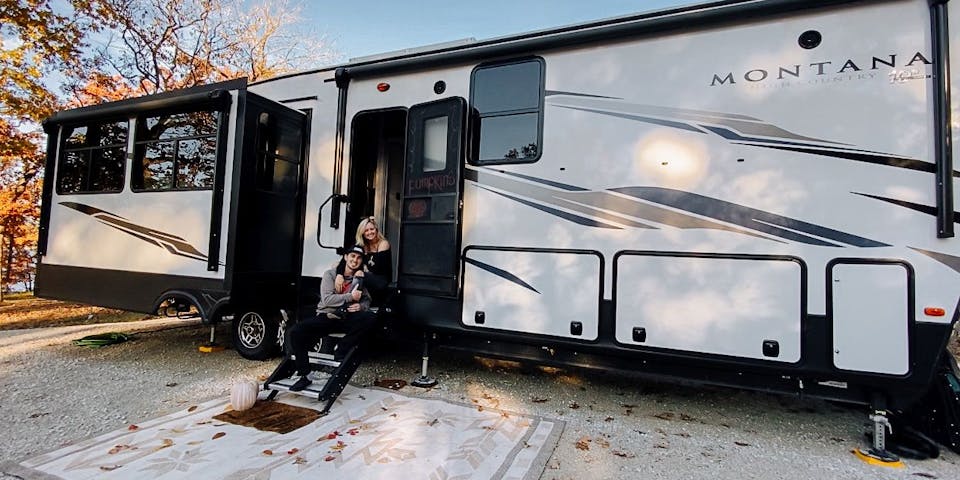 JoKo Travels
Finding beauty in the most unexpected locations is something that Jodie and Kory seek, while Kallie runs circles around them, climbing to the highest peaks. Kory travels due to his career as a Radiographer, but Jodie becomes the heart of the adventure. The RV lifestyle was an easy decision for this family, they didn't have to pack, unpack and repack every 6 months. They have everything they need in their Montana. Follow JoKo Travels on TikTok and Instagram as they share their adventures.